Starship Voyager dumped into skip
Tearful Trekkie dismantles intergalactic flat
One Trekkie's dream of boldly going where no interior designer has gone before appears to be over – thanks to his estranged wife, who has decided his starship Voyager-themed flat isn't entirely suitable for the terrestrial housing market.
Former DJ Tony Alleyne, 58, has spent 10 years and a wad of cash coverting the one-bed pad in Hinckley, Leicestershire, into a faithful replica of the spaceship's flight deck.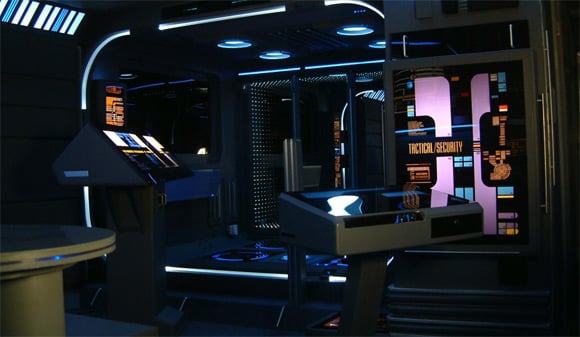 Georgina Alleyne has told Tony the flat has to boldly go. Pic credit: 24th Century Design
Alleyne's attempt to build a Star Trek-inspired design business on the back of the flat ended when he was transported to the bankruptcy courts, and the poor bloke then faced a serious hydroponic fungus attack, courtesy of his cannabis-cultivating neighbours.
Voyager survived that particular menace, but now faces a terminal threat in the form of Alleyne's wife Georgina, who has been paying the mortgage on the starship since the couple split in 1994.
They're finally getting a divorce, and Georgina told the Sun: "I want to sell it as conventional property."
A distraught Alleyne said: "To say I'm gutted is an understatement. It is my life's work – and it looks like it's going into a skip. I admit there were tears." ®