The UK economy might be down in the dumps, but there is a ray of sunshine from an unlikely source: Mark Zuckerberg's Facebook has supposedly helped to contribute £2.2bn to the country's GDP in 2011.
Facebook added that – with a lot of help from the rise of mobile applications – it has "supported" 232,000 jobs in recent years across the European Union.
It further claimed, courtesy of numbers crunched by a Deloitte research team on behalf of the the social network, that Zuck's outfit had contributed €15.3bn, or £12.7bn, to the EU's economy.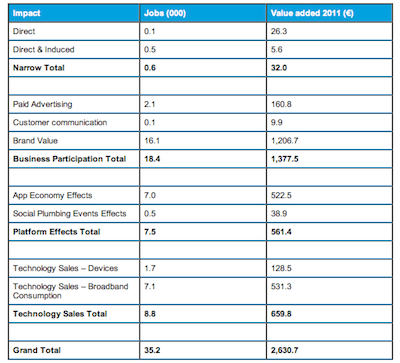 'appy Facebookers chow down on broadband... bitch
Perhaps unsurprisingly, the Deloitte report coincided with a Facebook announcement about new partnerships and programmes "to help the UK reap the benefits of social media".
Facebook said it is offering advertising credits worth £4.2m to 50,000 small businesses based in the UK, France, Germany, Spain and Italy. That figure, in case you were wondering, breaks down to £84 of ad credits per SMB.
The company is taking its "Facebook for business" bus on the road throughout Blighty, where it will try to convince small firms to use its network and learn more about its ad engine.
"Today's report shows that Facebook is about a lot more than sharing pictures or keeping up with friends; increasingly social media means growth and jobs," Facebook COO Sheryl Sandberg opined.
"As the Deloitte study highlights, social media is proving particularly valuable for small and medium sized businesses, which form the backbone of the European economy.
"The impact of social media is a bright spot in challenging times, but growth won't happen on its own. We need to make sure that we invest in the right education, training, technology and networks so that social media can continue to drive innovation and economic growth."
Deloitte's full report can be scrutinised here (PDF). ®