This article is more than 1 year old
Two million-degree matter from SLAC laser
PICOSECOND PULSE OF DOOM!
From "wow, that's cold" we now get to meet a "wow, that's hot" laser application, courtesy of the US Department of Energy's SLAC National Accelerator Laboratory: its X-ray laser has created and probed matter as hot as the Sun's corona.
In a busy day at SLAC, the lab announced the creation of 2-million-degree Celsius matter, and also fired the LCLS at neon atoms to create the first "Atomic X-Ray laser".
One announcement covered the creation of a new kind of laser – the Atomic X-Ray Laser. By firing SLAC's Linac Coherent Light Source at a capsule of neon gas, the scientists got the neon to emit coherent X-rays.
It works like this: the LCLS's X-ray pulses knocked electrons out of the inner shells of neon atoms in the target, and when electrons dropped down into the vacated lower-energy orbits, they shed photons. However, instead of the visible light laser we're familiar with – and which also works by inducing electrons to shed photons as they shed energy – the SLAC technique generated high-energy photons in the X-ray range.
Those X-ray photons then caused similar emissions from neighbouring neon atoms, causing what SLAC's release calls "a domino effect that amplified the laser light 200 million times".
The laser X-rays generated by the neon atoms are, the group says, more pure and have one-eighth the wavelength of the laser fired by the LCLS, making it suitable for capturing reactions much faster than have been observed before.
The atomic laser also fulfills a prediction from the earliest days of lasers, that coherent X-rays could be generated by the same phenomena that produces visible coherent light.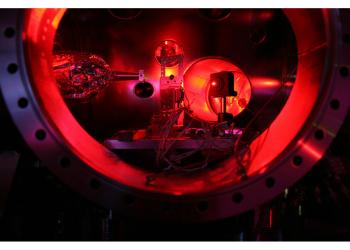 The Linac 2M°C chamber. Photo: Sam Vinko and Oxford University.
The other SLAC LCLS experiment, announced at the same time, was to fire the instrument at a tiny piece of aluminium foil. The result was a ten-micron cube of a special plasma known as "hot dense matter".
Very hot, in fact: in the vicinity of 2 million degrees Celsius, similar to the temperature of the Sun's corona. The LCLS was used to take the temperature of the plasma in the tiny instant – less than a picosecond – for which it existed.
Sam Vincko, a postdoctoral researcher at Oxford University and lead author of the paper demonstrating the hot dense plasma, says the creation of this matter "is important … if we are ultimately to understand the conditions that exist inside stars and at the centre of giant planets within our own solar system and beyond".
And that was just using LCLS: The Register presumes that once SLAC is able to operate its X-Ray Atomic laser on a routine basis, even higher temperatures will be feasible.
Participants in the plasma research were led by Oxford University, and included scientists from SLAC, Lawrence Berkeley and Lawrence Livermore national laboratories, and five international institutions. The Atomic X-Ray laser was all SLAC's own work. ®