Toshiba Qosmio DX730 PC TV combo
Touchscreen desktop entertainer
---
Review

Toshiba's Qosmio laptops regularly appear in our hardware reviews but the new Qosmio DX730 is a bit of a departure. In fact, it's not a laptop at all. It is, according to Toshiba, the very first desktop PC that they've ever released here in Europe. And it's a pretty good one at that.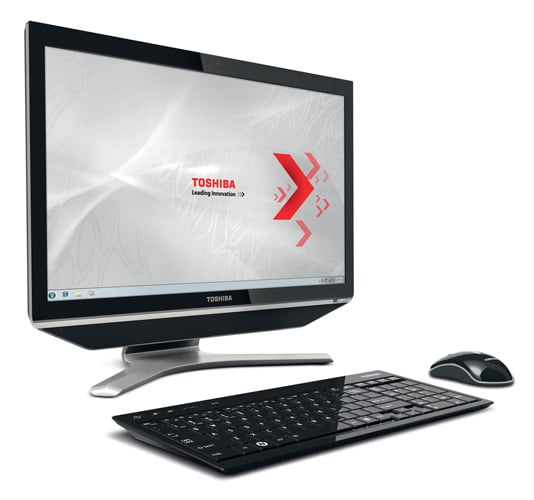 Touching idea: Toshiba's Qosmio DX730
As you might expect with Toshiba's background in consumer electronics, the DX730 very much puts its emphasis on entertainment and multimedia. The all-in-one unit provides a bright, sharp 23in touch-screen display with 1920 x 1080 resolution, as well as a hybrid analogue/digital TV tuner. An HDMI input is included too, so you can plug in a games console or set-top box. There's also a rather nice set of custom-designed Onkyo speakers built into it, complete with a separate subwoofer.
Prices start at £699 for the DX730-100 model, which includes – shock horror – a 2.1GHz Intel Pentium B950, along with 4GB RAM, 1TB hard disk. For £799 you can step up to the DX730-101, which swaps the Pentium for a 2.2GHz Intel Core i3-2330M. On test is the top-of-the-range DX730-102, priced at £999, which runs a 2.4GHz Intel Core i5-2430M and also throws in a Blu-ray player and 6GB RAM.

Windows Media Centre-savvy remote is among the peripherals
The slimline system is neatly designed, with the screen and wireless mouse and keyboard all finished off in the same glossy 'precious black'. I wasn't wild about the keyboard, though, as the keys lie very flat and low and don't feel very responsive. The sideways-mounted tray-loading Blu-ray drive is also a bit dodgy – it's fiddly to insert disks, and the plastic tray mechanism feels rather flimsy.
Those are relatively minor flaws, though, and I was more irritated by the morass of bloatware that awaits you when you turn the PC on for the first time.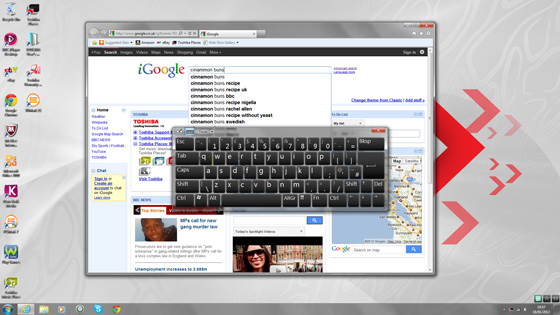 Virtual keyboard: for when those Bluetooth batteries go flat
There's a variety of programs and notifications that appear on the initial startup, and some of them linger afterwards too, making regular appearances to remind you to register the anti-virus software or start making a back-up. I particularly hated the customised iGoogle page on Internet Explorer, which replaces the normal clean and simple Google home page with a page full of rubbish.