Toshiba Qosmio DX730 PC TV combo
Touchscreen desktop entertainer
Entertaining options
The TV features work well too, allowing you to watch and record Freeview TV programs using Windows Media Centre. There's a separate remote control included with the DX730, but you can use the touchscreen controls here too – and I actually had a bit of a Minority Report moment when realised I could use my fingers to flick through the TV guide and other options in Windows Media Centre. I was also pleasantly surprised by the Onkyo speakers, which gave the DX730 the best sound I've ever heard from any all-in-one PC or Mac.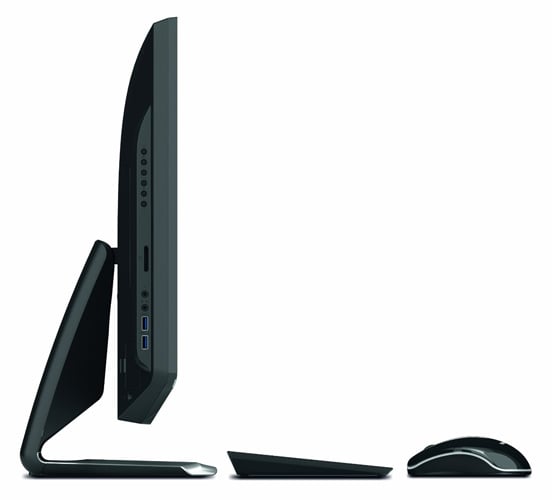 Somewhat pricey, but a decent performer overall
Verdict
For a desktop PC costing £1000 should a discrete graphics processor, and possibly a quad-core i5 would not seem out of place, but no doubt the additional cost of the touchscreen has seen corners cut here. Unlike Toshiba's Qosmio branded latops, this all-in-one PC is no gaming rig, but the sleek design and the versatile multimedia features of the DX730 will appeal to many home users, especially for use in a bedroom or study where it can also double up as a TV and music system. ®
More Desktop PC Reviews

Lenovo
ThinkCentre
Edge 91z
Apple
Mac Mini 2011
HP
TouchSmart 610
Sapphire
Edge HD
Apple
iMac 27in

Toshiba Qosmio DX730 PC TV combo
Top-notch display, audio and video features make this a classy entertainment PC.