TVCatchup
Live telly beamed to your iDevice
iOS App of the Week

I don't know how I ever lived without the BBC iPlayer. And, of course, there are now similar catch-up TV apps available from many UK TV companies. The drawback with these apps is that they're tied to specific channels or broadcasters, which means you can't hop from channel to channel within any single app.
Fortunately, an old favourite recently reappeared at an opportune moment.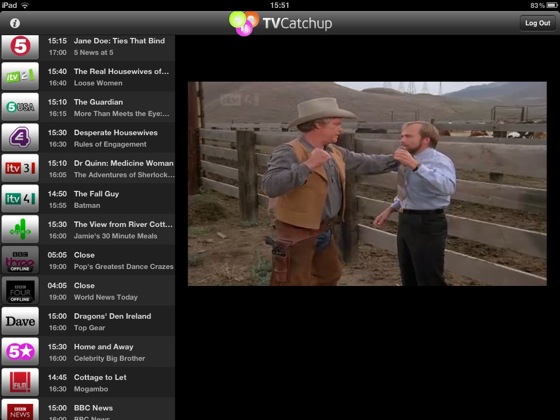 The UI is a basic channel listing
TVCatchup was one of the first online TV services that I came across. It provides live online viewing of all the main free-to-air TV channels, and was originally available on iOS devices through a web browser rather than as a self-contained app. That's still the case for Android users, alas.
I lost track of TVCatchup for a while, as it seemed to get bogged down in legal disputes with various broadcasters. That legal action scuppered the developer's plans for a DVR option, restricting the service to transmitting live broadcasts only – and leaving it saddled with a now rather inaccurate name.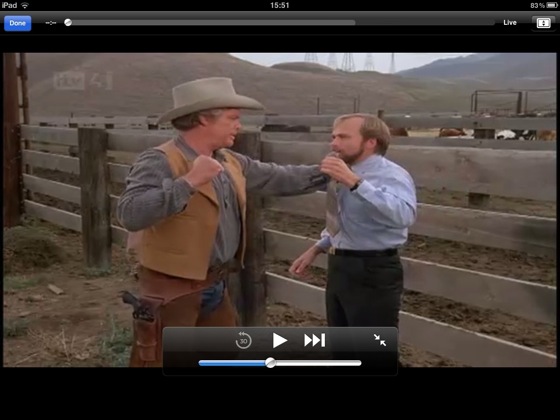 You can use the usual video playback controls to pause live streams
But, having weathered the legal storm, TVCatchup re-emerged about a year ago with a proper iOS app that has just been updated.
The app is free to download and runs on all iOS devices. There's very little to the app itself: just a list of channels with the name of the current and next programme, and you simply tap on a channel to start watching. You can use either Wi-Fi or 3G connections, although using 3G may bust your data cap rather quickly.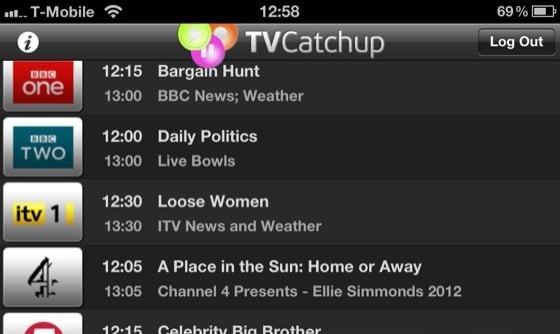 Runs on the iPhone as well as your tablet
There's no recording option, although you can pause and resume the current broadcast if you need to. But even that limited functionality is useful enough – especially given the many hours I've spent wrestling with far more expensive network TV tuners that don't work as well as this free app.
The only drawback is that the app is ad-supported – even for BBC channels. However, the ads are brief and not too intrusive, and TVCatchup is definitely worth downloading as part of your iOS entertainment armoury. ®
We make our selection of the best iPhone, iPod and iPad downloads every Thursday. It you think there's an app we should be considering, please let us know.
More iOS App of the Week Winners

Errands To-Do List
Samsung Remote
Sleep Cycle
Dermandar
Panorama
KitchenPad

TVCatchup
The name is misleading, but this is still a useful app for watching live TV from multiple channels on your iOS devices.
Price:
Free (ad supported) RRP