Updated The UK's Advertising Standards Authority (ASA) is to investigate a promotional campaign by confectionery giant Mars, which hired B-list celebrities to push its Snickers candy bars.
"Following two complaints, the ASA has launched a formal investigation into tweets by Katie Price and Rio Ferdinand to establish whether Mars' @SnickersUK#hungry#spon campaign is in breach of the Advertising Codes," press officer Matt Wilson told The Register.
The complaints were inspired after the pair began posting a series of out-of-character tweets, with Price commenting on the state of the global economy and the macho Ferdinand tweeting about knitting. Price then said that she wasn't quite herself because she was hungry and posted up a photo of herself with a Snickers (or Marathon as they used to be known in the UK) – with the tagline @SnickersUK#hungry#spon.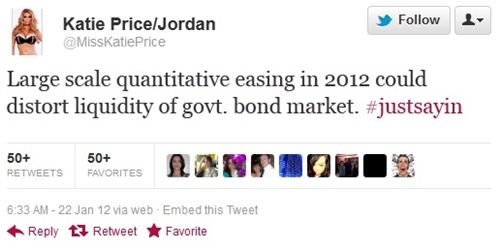 Katie Price, noted economist?
The ASA investigation will looks at whether the social media advertising breached trading standards – by law, such marketing communications have to be clearly labeled. The complaints hinge on if the initial tweets should have said they were part of a marketing campaign, and if the #spon hashtag made it clear that Mars was paying for the whole thing.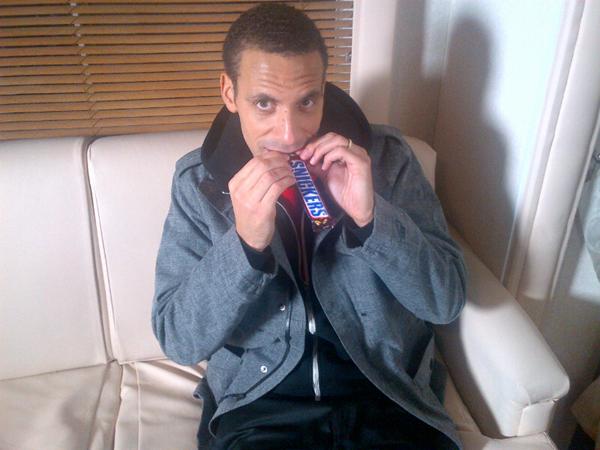 Advertising, because football's not lucrative enough
Certainly followers of the two were less than impressed by the campaign, with Rio Ferdinand's followers tweeting "Do you really need the money that badly?" and another adding "I'm not on here to be advertised at." Ferdinand, who is currently earning £130,000 a week from his footballing career, did not respond.
Boxer Amir Khan, cricketer Sir Ian Botham, and X-Factor loser Cher Lloyd have also been involved in the campaign, although no one has bothered to complain to the ASA about them. ®
Update
Mars got back to us with a comment that was brief and to the point. A company spokesperson said "We will look to cooperate fully with the ASA on this investigation."
Similar topics