NSFW - UPDATED A conceptual design for a new iPad case would let Apple fanbois get very personal indeed with their favorite fondleslab.
The Fleshlight iPad holder comes to us from the fertile, febrile mind of prolific designer, author, recipe-creator, and opinionater Tv Slicèdbread Miller. The device – currently only in conceptual-design form – clips onto the outside of the iPad (lengthwise of course), and allows the user to pleasure himself while looking at the screen.
Presumably porn makers would leap at the chance to come up with shooting styles that enhance the illusion that the user is making love to an actual human, rather than a slab of electronics enhanced with a ribbed polymer pocket.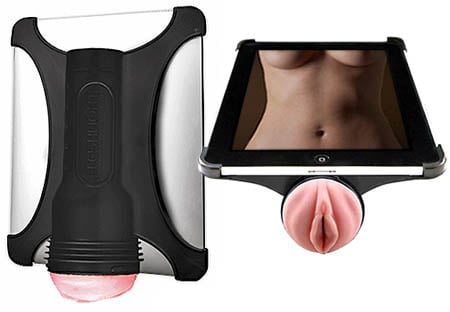 Do to Apple what Apple does to you (source: TVMiller)
The caressing core of the concept, the Fleshlight itself, was invented by a former police SWAT team member, patent-protected as a "device useful for collection of sperm from human males", and is one of the best-selling sex toys in the world. Designed to look like an ordinary flashlight, the device has a molded polymer interior which, when heated and lubricated, apparently feels somewhat like a vagina – or so we're told.
When it comes to geek sex toys, Apple fans are well ahead of the field, according to research by UK smut accessorymonger LoveHoney. It found that iPad owners spent the most on their assistive technologies, followed by iPhone and Mac owners, with Windows geeks bringing up the rear.
While the Fleshlight manufacturers already sell mountings for their product, they have yet to move into the fondleslab field. If the design does make it to production then you'll have the perfect gift for the geek who has everything – except a girlfriend. ®
Update
Fleshlight has confirmed to El Reg that a development project to build a iPad interface with the device is well in hand. We'll keep a firm grip on the situation and let you know as plans firm up.