This article is more than 1 year old
Nintendo cuts full-year forecast – by BILLIONS
Super Mario-maker hopes Wii U release can help it power-up
The mighty yen and weak sales have combined to take a whack out of Nintendo, forcing the Japanese gaming firm to forecast an even bigger full-year loss.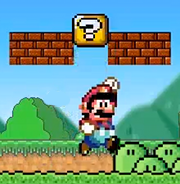 The Wii and 3DS maker had previously estimated a net loss for the financial year ending in March of ¥20 billion (£164.2m), but it's now preparing itself to lose up to a whopping ¥65 billion (£533.9m).
Nintendo's once-groundbreaking Wii has been overtaken by motion-additions to Sony's PlayStation and Microsoft's Xbox, and is showing its age. Meanwhile, the new iteration of its handheld console, the 3DS, has failed to ignite the market.
The Japanese firm cut its sales forecast of the Wii for the year to 10 million from 12 million and now reckons it will sell 14 million 3DS devices instead of 16 million – despite a "significant price revision" in August intending to shift more of the handhelds.
"We had higher expectations for the year-end season, but failed to meet them," President Satoru Iwata told media in Osaka.
The Japanese firm's net income for the October to December period was ¥21.9bn (£179.9m).
However, the company that brought the world the Super Mario brothers is not planning to be left behind for long. Iwata said that the new version of its Wii, the Wii U, would be going on sale in Japan, the US, Europe and Australia in the year end season.
Nintendo will be hoping that the U can raise its flagging fortunes, but the console won't be able to do anything about the strong yen or consumer reluctance to shop in the face of a possible double-dip recession. The firm is also facing competition in new places, such as fondleslab and smartphone gaming. ®