Sick of Ubuntu's bad breath? Suck on a Linux Mint instead
Unity rival isn't a monster frankengnome
If the jump from the GNOME 2 desktop to the new GNOME Shell or Unity desktop in Ubuntu has left you feeling dissatisfied, one increasingly popular distribution just might offer something that turns out to be the best of both worlds - Linux Mint.
Originally created as a spinoff of Ubuntu, Mint has long since come into its own and offers a number of advantages over other distros, including a desktop that dares to stay firmly in the Middle Earth of the ongoing desktop holy wars.
Mint takes what's good about the GNOME Shell while retaining what was great about GNOME 2. The result is not, surprisingly, a Frankendesktop of horrendous proportions, but something quite usable. The new Fedora and Ubuntu's Unity could be considered responsible for an upsurge of interest in Mint, especially since Mint 12 late last year.
Canonical in particular will drive more people Mint's way with its plans to dabble further on the interface: Mark Shuttleworth just unveiled HUD - or Head Up Display - for Ubuntu 12.04 LTS, intended to swap menus for type-what-you-want access to functionality.
Part of the reason behind Mint's rise in popularity is its ability to take GNOME 3 and do what no other distro has really managed to do - make it better than the stock version
With HUD on the horizon, it's worth taking a look at how Mint stacks up.
Before diving into the Mint release it's worth noting that there are two flavours of Linux Mint: the Ubuntu-based distro we'll be talking about here and the direct Debian descendant that uses a rolling release schedule. Both are worth checking out, but this article is limited to the primarily Ubuntu-derived version of Mint.
If you're switching from another GNOME-based Linux distro, Mint 12 will look familiar at first glance. It's one part GNOME 2, with menu bars and tray icons, and one part GNOME 3, with a modified variant of the Shell interface nicely skinned to match Mint's default theme. Indeed Mint 12 manages to use GNOME 3 and still look more like the familiar old GNOME 2. Most of the magic happens through what are known as the Mint GNOME Shell Extensions, which add back some missing GNOME 2 features - namely a bottom panel, an applications menu and a usable window list. There's even an option to switch between open windows, not just applications, if you prefer that model.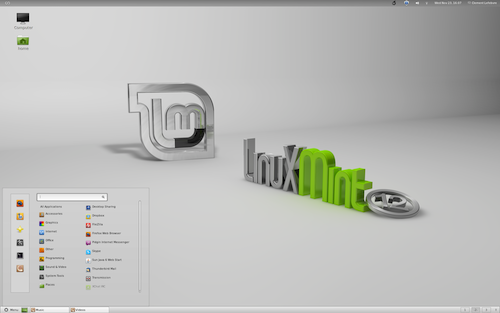 What's on the menu: The Linux Mint 12 ('Lisa') application list - click for larger (Source: linuxmint.com)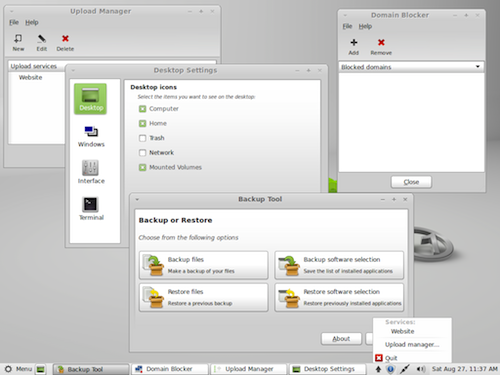 Tooling up: How the Linux Mint 11 GNOME 2 desktop looks - click for larger
Part of the reason behind Mint's rise in popularity is its ability to take GNOME 3 and do what no other distro has really managed to do - make it better than the stock version. In a way, what Mint has done is create a new Ubuntu. That is, Mint has customised elements that every distro uses but in doing so made the complete package greater than the sum of its parts.
Of course Mint 12 doesn't stop with its GNOME Shell customisations. It also includes MATE, a fork of GNOME 2. MATE is still new and in my testing less than completely stable. Still, for those that really want to stick with GNOME 2, MATE may well be the answer. However, while MATE may help GNOME 2 live on, it's not for everyone.
Despite having two GNOME 3 Shell alternatives already available, Mint plans to offer a third and far more ambitious option in the form of its coming Cinnamon desktop.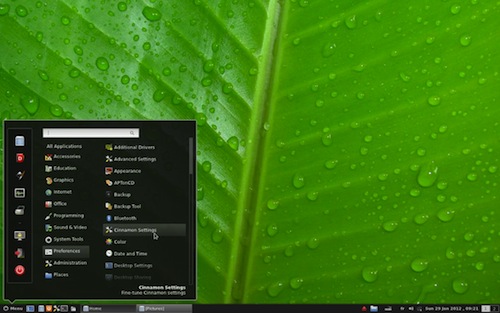 A glass act: The Cinnamon-Glass 1.1 theme - click for larger
Mint's Cinnamon is a fork of the GNOME Shell that uses Mutter and Gnome 3 to create a hybrid desktop that aims to use the best of both GNOME worlds. Cinnamon is available now (and not limited to Mint; it will work with Ubuntu 11.10, Fedora 16, OpenSUSE 12.1 and Arch Linux as well), though it is still in the very early stage and doesn't ship with Mint 12.
Holes in Mint
Fortunately it's easy to install on your own. And although Cinnamon is rough around the edges at the moment, the Mint developers plan to make it the primary development desktop in the future, eventually replacing the GNOME Shell and the Mint GNOME Shell Extensions as the default option in Mint.
As good as Mint 12 is at this stage and as bright as its future currently looks, it's not without problems. Nice as some of Mint's interface customisations are on the surface they sometimes they lack the finishing polish you might find in, for example, Ubuntu. Varying fonts in dialog boxes and occasional display glitches are examples in the current release.
Another source of contention for some users is that Mint ships with proprietary multimedia codecs already installed. Most people install them anyway, but that doesn't change the fact that it's technically not allowed in many countries. It's one thing if users install such codecs on their own - assuming any legal risk themselves - but it's another if the distro includes them, possibly without the user even being aware that they're there. If you live in a country that allows software patents, be sure to grab the USA-Japan Edition of Mint which does not contain any multimedia support.
Part of the beauty and complexity of Linux is choice - there's something for everybody. While popular choices like Ubuntu or Fedora may garner most of the attention, options like Mint continue to exist and even thrive.
As it stands Linux Mint 12 offers one of the best out-of-the-box experiences of GNOME 3 that you could hope for. Assuming the Mint developers can bring that same level of quality to Cinnamon, Mint's future looks bright as well.
It might not yet have the widespread recognition that Ubuntu enjoys, but Mint is well on it's way and winning over more converts every day. ®