This article is more than 1 year old
Soul Calibur V
Blades of glory
Review Ah, Soul Calibur, a game where over-muscled beefcakes and scantily clad teen girls clash in violent, weaponised mortal combat. Then, having ripped each other a new one, said combatants dust themselves off ready to battle the next day. Maybe it's just me, but I'm having a little trouble with the believability factor here; mind you, at least the fighting part is entertaining enough.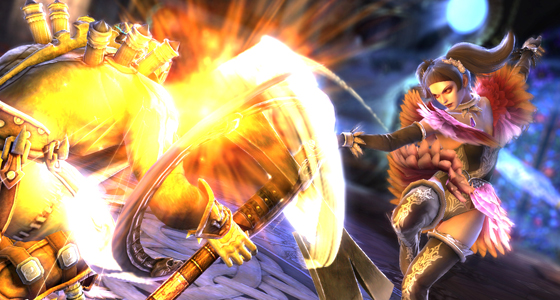 Face the light
Once more the series tries to absorb us in its tale of chosen warriors, magical swords (Soul Edge, Soul Calibur), good versus evil and yada, yada, yada... To be honest, the mythology and character relations are, by now, sufficiently muddled that it would take a complete reboot to have the story and its world have any real impact.
Suffice it to say that a bad guy wielding the cursed sword Soul Edge holds the land in his iron gauntlets and can only be stopped by a brave and destiny-filled knight. Step in Patroklus, a new addition to the series roster who, shock of shocks, gives said bad guy a whupping, all in the name of saving his sister Pyrrha.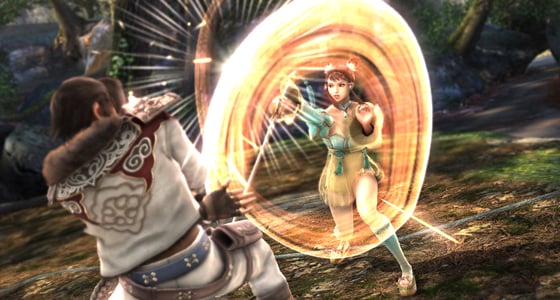 Circle of strife
For most, the story is merely a conduit enabling encounters with very nearly the complete list of Soul Calibur fighters. If nothing else it acts as a training centre where the comprehensive character move lists and combos can be learned and skills honed before plunging into local or on-line multiplayer.
Soul Calibur's fighter line-up has always benefited from a diverse array of body types, weapon types and disciplines and does so here. In fact, some of fights you'll witness are downright comical – a waif-like girl going up against a hammer wielding giant standing twice her height and of four time her girth, for instance.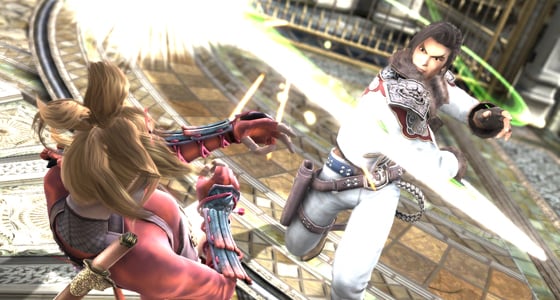 Go for a slash
It's testament to the developers that – rather than such battles descending into complete farce – the animation, character models and relative speed and strength of each fighter somehow balances out.