This article is more than 1 year old
Paris Metro brings a bit of style to NFC
Philippe Starck designs last Navigo card
The Paris Metro will be getting new payment cards next year, cards which pave the way to board-by-bonk phones by being compatible with the NFC standard.
Not that the Paris transport authority, the STIF, is saying much about the technical capabilities of the new card. The French are much more interested in the fact that it was designed by Philippe Starck, who not only chose the colours and layout, but also decided the card would be presented vertically to bring "energy" to the validation process: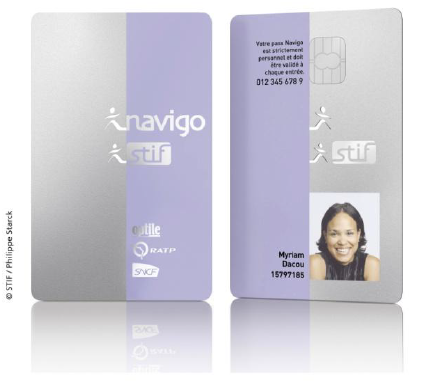 But if the card looks this good who is going to use a phone instead?
So we're indebted to NFC World, which reminds us that the new card shifts the payment system to ISO 14443 type B and is thus compatible with NFC-enabled phones which are already on the market. So STIF could, and says that it will, create a smartphone app allowing passengers to hop onto the metro by tapping their phones against the reader.
The old system will remain in place alongside the new, so existing cards won't need to be replaced, but what Frenchman would willingly wield last year's design when there's a Philippe Starck original available? ®