This article is more than 1 year old
Cocktail Audio X10 CD copier and music streamer
A rip-roaring trade?
Review The Cocktail Audio X10 is a compact hi-fi component with a network connection for internet radio, audio streaming from shared devices and file transfer. It's fitted with a 500GB or 1TB hard disk, which serves as your music library, either for existing digital audio files that you copy to it or CDs ripped using its slot-loading drive. You can output to an amplifier or attach speakers directly, as it has a 2x 30W power output, although loudspeakers aren't supplied.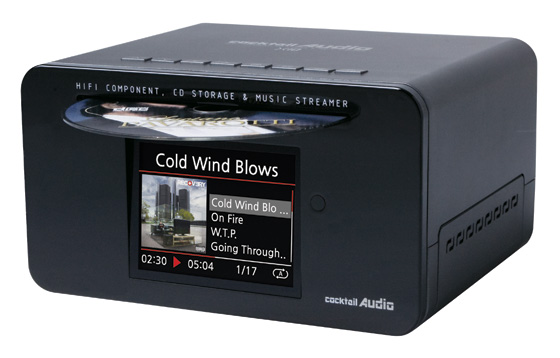 Beats extract: Cocktail Audio X10
By default CDs are copied in WAV with no additional compression or you can select FLAC (lossless compression), Ogg Vorbis and MP3 in various quality settings. It always rips in WAV and post-converts if necessary. There's room for thousands of albums and later you can swap the hard disk for one of your own, up to 2TB.
CDs are automatically identified and tracks named through the FreeDB database, an open source alternative to the widespread Gracenote, though it doesn't find sleeve artwork for you. The database comes from its internet connection or copied to the internal drive from the supplied CD and updated from a USB stick if you're using the X10 off-line.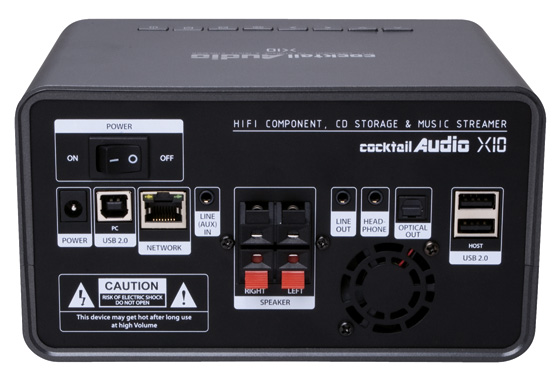 All interfacing lives round the back – shame phonos aren't used though
The Cocktail Audio X10 connects by Ethernet or Wi-Fi with a dongle. There's no tuner, so any radio stations you want need to come over the net, but there are more than 15,000 listed, you can store favourites or even record, as long as the station provides an MP3 version.
The remote control is responsive but could do with fewer buttons. There is also a free EyeconnTroller Android or iPhone app. Surprisingly it lacks an iPod dock, and if you're looking for the AirPlay facility, you'll have to go elsewhere. The unit's colour LCD screen is large and informative but longer text strings scroll constantly in a distracting way.