The overall build quality is slightly plasticky and its connections are the kind you'd find on a basic mini hi-fi – spring clip speaker terminals and mini-jack line in/out instead of RCA/phonos – but in this case it's not overly detrimental to the sound.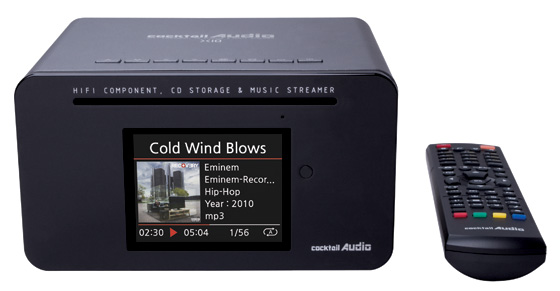 CD collector: rips music in the background, while you play content from other sources
There is a bit of hum and vibration from the hard disk and fan too, so if you want an otherwise noiseless room for music, this won't help enormously. Audiophiles would undoubtedly get sniffy about all this but there are high-end offerings from the likes of Linn and Naim to cater for such tastes with a price to match.
The X10 can rip CDs while you play anything from the hard disk, internet radio or music streaming. The latter option is reasonably effective but it takes the unit a while to access large libraries. My iTunes folder has amassed hundreds of folders over the years and it took the player nearly a minute to load them.
It works best when everything is stored locally on the HDD and then you won't need a computer on continually. It also uses Samba to appear as a shared drive on the network, which also makes the library available to other suitably connected media players.
If you use the analogue line output to a separate amplifier then any speakers attached to the X10 are muted but the optical digital audio output works any time, so you could wire up a second zone this way.
Ripped music can be backed up en masse or exported individually. Choosing the USB option seems unusually slow, especially with WAV and FLAC, but it imports and exports over the network much more rapidly. There are two USB ports for attaching external drives too. As well as the formats it rips in, it plays WMA, AAC/M4A and PCM. Data CDs and DVDs containing audio files can also be played or copied from.
Lastly, it can record in WAV format from its line input from any attached device, so you can transfer MiniDiscs, tapes and vinyl from external players, but turntables will need to utilise a phono preamp.
Verdict
The Cocktail Audio X10 manages to keep its potentially complex mix of features fairly intuitive and easy to use. Its audio performance using attached speakers or digital and analogue outputs is about equal to a midrange mini hi-fi, for which this makes a convenient replacement. ®
Thanks to AdvancedMP3Players for the loan of the review sample.
More AV Gear Reviews

Ten...
boomboxes
Yamaha
RX-V471
AV receiver
Ten… mini hi-fi
systems
Panasonic
SC-BTT270 Blu-ray
home theatre
Ten... Blu-ray
disc players

Cocktail Audio X10 CD copier and music streamer
Network music player, internet radio and CD ripper with 500GB or 1TB hard disk.
Price:
£349 (500GB), £459 (1TB) RRP