RIM's cartoon superheroes inspire caustic Tweet-storm
Just 'a bit of fun', responds beleaguered BlackBerry biz
RIM's latest marketing stunt has succeeded in attracting a high degree of attention – but not necessarily of the type that the struggling company may have intended.
As 2011 drew to a close, RIM asked BlackBerrians to tweet their "Bold" New Years' resolutions to the hashtag #BeBold, and last Friday the company introduced a quartet of cartoon superheros dubbed "The Bold Team".
Unfortunately for RIM's marketeers, GoGo Girl (The Achiever), Max Stone (The Adventurer), Justin Steele (The Advocate), and Trudy ForReal (The Authentic) were quickly disparaged by a horde of Twitterers as being, well, pick one: dumb, foolish, stupid, silly, vacuous, and/or downright moronic.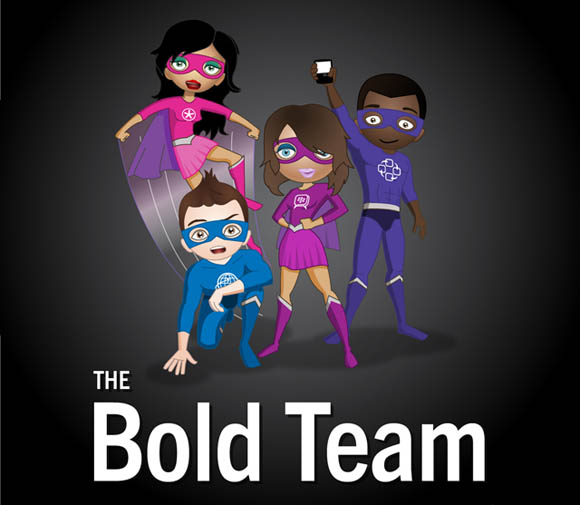 Possibly not the most mature, confidence-inspiring image for a enterprise-centric company during trying times
RIM responded to the criticism on Tuesday. "We've noticed The BeBold Team has received a lot of attention over the last couple of days, and wanted to clarify – this infographic is just intended to be a bit of fun," the company explained in an update to its Team announcement.
RIM's concept of fun, however, might delicately be described as debatable. GoGo Girl, for example, is described as "saving the day with a brilliant strategy, a smile, or a spatula" – a wee bit tone-deaf with the sexist allusion, RIM?
Some may consider the Bold Team as childlike, though others might choose to describe them as childish, and not wholly appropriate for a company attempting to rebuild its reputation. Perhaps RIM is going after a younger crowd. Or perhaps someone is simply asleep at the brand-promotion switch.
One thing is certain, however: The Bold Team (or The BeBold Team; RIM mixes the monikers) garnered a broad variety of comments on Twitter. Here's just a sampling:
Click here to examine RIM's Bold Team results in all their high-rez glory – and note that New Years' resolutions that RIM identifies with spatula-armed GoGo Girl were provided far more frequently than those that inspired a cartoon superhero who's "unabashedly charming". ®