iPhone doc will detect cancer, diabetes - boffins
Touch screen literally meets bleeding-edge science
---
A drop of blood or saliva can be analysed using an ordinary touch screen - and once boffins perfect the identification of biological molecules, then diagnosis by iPhone – or indeed any smartphone – isn't far off.
The work is being done in South Korea, where researchers at the Advanced Institute of Science and Technology have been spitting and bleeding onto capacitive touch screens to see what details they can extract from the samples using standard touchscreen tech.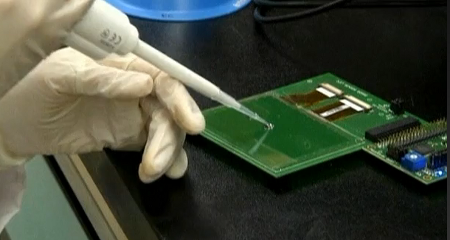 The eggheads spoke to Reuters, promising "to diagnose a range of diseases from cancer to diabetes".
It is early days, but the researchers explained that they can spot the presence of biomolecules and must now attempt to identify what they are using a touchscreen. Scientists with proper biomedical equipment in a lab can easily differentiate between various biomolecules, of course.
The plan, therefore, is to create "a film covered in a substance which can selectively react to certain biomolecules so that we can determine what those biomolecules are", which would provide the same functionality, just not on a standard iPhone screen.
The technology would certainly seem a contender for the latest X-Prize, which requires the use of non-invasive techniques to diagnose illness. The taking of blood was much debated by the team behind the prize, but a thin-enough needle should allow a sample without the patient noticing and spitting is certainly within the rules.
Given the ubiquity of touch screens it's not surprising that alternative applications are being sought for them, and we look forward to the day we're never more than gobbing distance of a diagnosis. ®
Similar topics
Broader topics