This article is more than 1 year old
Facebook files for IPO, seeks $5bn
Management rule by 'The Hacker Way'
As expected, Facebook has announced the terms of its initial public offering and is looking to raise $5bn.
In the firm's SEC S1 filing the company reported revenues of this year of $3.7bn, up from $2bn in 2011, while income has just hit $1bn, from $606m last year. The site reported 845 million monthly active users and 483 million daily active users.
The company also seeks an active income stream from the commission it makes in virtual goods payments, a market it expects to be worth $15bn by 2014, and says it may extend its payment platform to other applications as well. Last year the platform processed $1.4bn in payments to developers.
"We think the world's information infrastructure should resemble the social graph - a network built from the bottom up or peer-to-peer, rather than the monolithic, top-down structure that has existed to date. We also believe that giving people control over what they share is a fundamental principle of this rewiring," said Zuckerberg in the filing. "We have already helped more than 800 million people map out more than 100 billion connections so far, and our goal is to help this rewiring accelerate."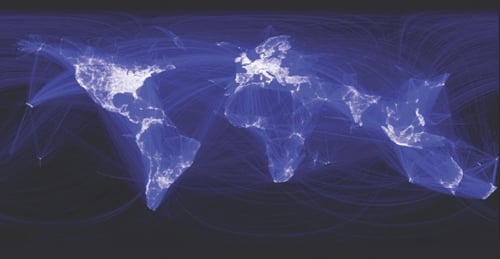 The global web of Facebook users
But it's not all remodeling society, Facebook is offering advertisers "a unique combination of reach, relevance, social context, and engagement to enhance the value of their ads."
Because users post such personal data, Facebook claims 95 per cent accuracy for ads seeking large groups, like adults between 25 and 49, compared to an industry average of 73 per cent. For more precise targeting – the company suggested women between 25 and 34 as an example – it was 90 per cent accurate compared to the industry's 35 per cent.
The Hacker Way
In the filing Zuckerberg said the company's management lived by the code of the Hacker Way, which would have caused much hilarity at this weekend's SchmooCon. "The Hacker Way is an approach to building that involves continuous improvement and iteration. Hackers believe that something can always be better, and that nothing is ever complete. They just have to go fix it — often in the face of people who say it's impossible or are content with the status quo," he said.
The hacker way also seems to mean releasing code with a few minor wrinkles in. Apparently there are walls with "Done is better than perfect" painted on them in the corporate coding halls. Every few months the company gets together for hackathons, and Zuckerberg credits Facebook's Timeline, chat, video, our mobile development framework to these sessions.
The filing shows Zuckerberg paid himself a modest (by Larry Ellison standards) annual salary of $500,000, with Sheryl Sandberg getting $300,000. The team six-monthly salary reviews and gets cash bonuses for performance, with Zuck getting $220,500 in the first half of the year and Sandberg $86,133.
Speculation has been intense about the possible price Facebook would be putting on itself ever since news of the IPO was leaked over the weekend. Estimates ran as high as $100bn, which would have created a swath of new Facebook millionaires and made Zuckerberg, who owns 28.4 per cent of the company, one of the richest men in Silicon Valley.
There had been fears of a bubble in the social media IPO market, with gaming firm Zynga shaving the amount it expected to raise in light of concerns.
Given the demand on SEC servers for the papers was so great it caused a temporary crash, Facebook should have no such problems.
Morgan Stanley, JPMorgan Chase, Goldman Sachs, Bank of America-Merrill Lynch, Barclays Capital and Allen&Company are underwriting the IPO and Ernst & Young checked their accounts. ®