A beta build of the Cabinet Office's single domain website project has now been opened up for public scrutiny.
The previous incarnation of the site - Alpha.gov.uk - has been killed in the process. It has now morphed into the capped-up-cos-we-mean-business GOV.UK. The incumbent Directgov is expected to be sent to the knacker's yard if the single domain is signed off by the government.
In August last year, Cabinet Office minister Francis Maude dished out a further £1.6m for development of GOV.UK. Since then, its team, led by Tom Loosemore, upped sticks from the dingy Directgov offices in Lambeth to Aviation House in Holborn.
Not all of the single domain test build is public-facing as of today, however. A "corporate publishing platform" version of the beta is being enthusiastically fingered behind closed doors.
According to a blog post penned by Loosemore, that chunk of the site is expected to replace "most of the activity currently hosted on numerous departmental publishing environments".
Separately, his developers are also working on a first draft of something Loosemore described as a "Global Experience Language" - to make the design and usage of the site consistent throughout.
More releases of the beta will follow - the second is expected in the next few weeks, followed by a third test build at the end of March.
"The GOV.UK beta builds on years of work and learning across government and outside it about how to deliver great services to users. In the first instance it is designed to replace the content you'll currently find at Directgov," said Loosemore.
"Directgov is a tremendous achievement and has consistently delivered huge value to its 30m+ visitors each month. However it is now 8 years old – an eternity in web years – and the user experience it offers is showing its age."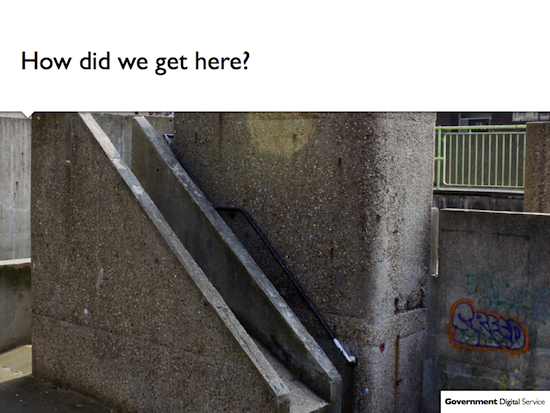 Cabinet Office says new site won't look anything like this beaten up Directgov 'estate'
It's obviously still in development, and Loosemore added that the "redesign of transactions, or government gateway, will take time".
That may be, in part, due to the fact that the Cabinet Office's grand plan to farm out the handling of taxpayers' online identities to the private sector will almost certainly be subjected to Blighty's laws.
The Cabinet Office gave us this statement about how much cash had so far been spent from the budget:
There are three deliverables* for the beta of gov.uk of which this release is just the first. The overall project budget is £1.7 million. We are currently running significantly under budget and are on schedule.
Anyhoo, the team wants your feedback. Here's the beta site. Go break it. ®
* This appears to be the government's new word for THINGS.