Research in Motion's upcoming BlackBerry 10 handset, the London, has been been spotted ahead of release, this time with a different look from the last time it was said to have leaked out.
When a handset, claimed to be RIM's next-gen smartphone and codenamed 'London', appeared in November 2011, it was seen to sport an angular design.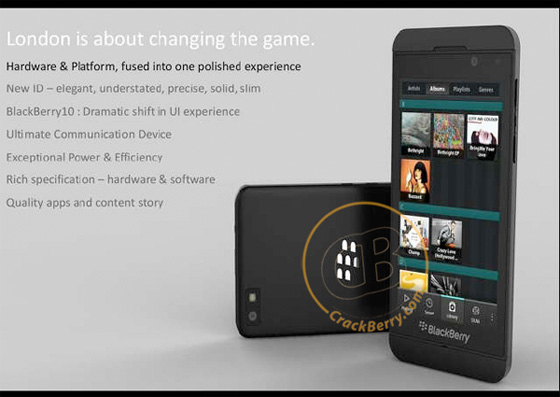 Now that the OS has been re-labelled BlackBerry 10, the London has resurfaced with a brand new look, Crackberry reports.
The shot comes from a presentation slide, it's said, and reveals a long, thin design.
The new-look London is said to be heading to the UK, which may help maintain RIM's narrow lead in the British smartphone market. The company has two other BB10 models in the works too: 'Laguna' and 'Lisbon'.
Spec details are hazy, but RIM has supposedly been flirting with dual-core 1.5GHz Texas Instruments OMAP 5 and Qualcomm chipsets. We'll ask the BeBold Team if they can provide anymore information. ®