iOS App of the Week I'm a news junkie, and when I recently cancelled my Sky subscription I found that the one channel that I really missed was CNN. So I was pleased to find that there's a free CNN app that is available in versions for both iPhone and iPad.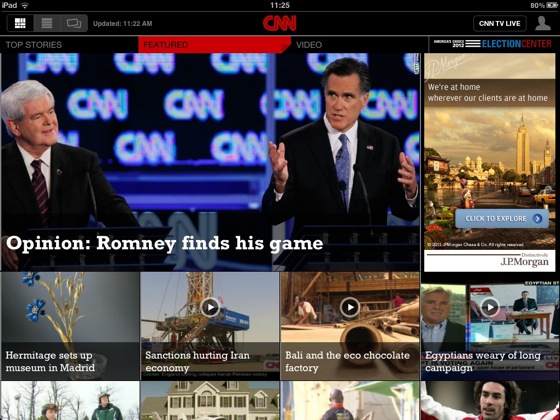 The iPad version opens in 'front page' mode
There are actually three separate apps for the iPhone: US and International versions, and even a Turkish-language version too. The iPad just gets a single app, but it allows you to switch between US and International stories in its preferences panel.
By default, the iPad app starts in "front page" mode, using its larger screen to display a series of photos representing the current selection of top stories.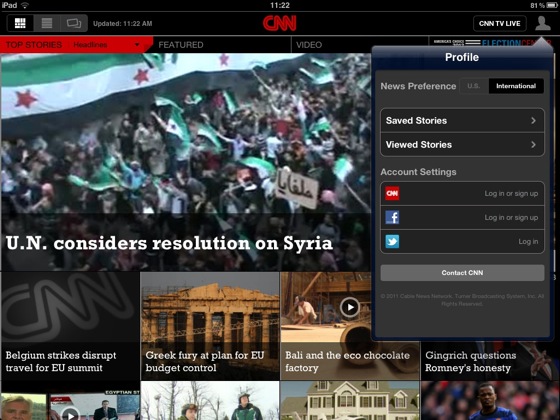 Flip from the US edition to the international version, and back again
However, you can also switch to a list of headlines and quickly browse categories such as US News, Business, Europe and Sport. There's also a slideshow mode that displays full-screen photos for the latest stories.
The smaller screen of the iPhone means that it has to rely on headline mode for displaying stories, but there's a nice touch here: the app switches into slideshow mode when you turn the phone on its side, allowing you to flick through stories by swiping your finger across the screen.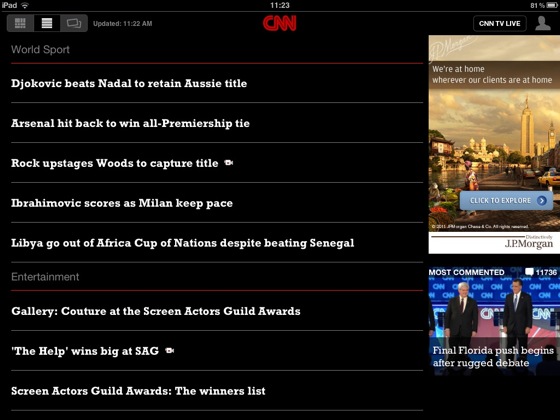 The headlines tonight...
The iPhone also allows you to upload your own photos and video clips as an "iReport" – which will no doubt come in handy the next time the entire country erupts in riots and looting.
Both apps allow you to save stories to read later on, and for those of us that really enjoy the spectacle of Mitt Romney and Newt Gingrich ripping chunks out of each other, they also have an Election Center button that gives you the latest news from the election trail.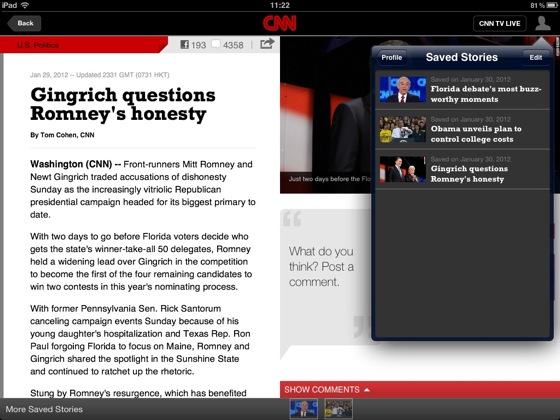 Save stories for offline reading
I've got a number of UK news apps already, of course, but CNN's coverage of the hilariously fratricidal Republican primaries is far more detailed and juicy than anything you'll get from the UK press and that's what earns it a place amongst my collection of essential news apps for 2012. ®
We make our selection of the best iPhone, iPod and iPad downloads every Thursday. It you think there's an app we should be considering, please let us know.
More iOS App of the Week Winners

TVCatchup
Errands To-Do List
Samsung Remote
Sleep Cycle
Dermandar
Panorama

CNN
A well designed news app that adapts well to the different screen sizes of the iPhone and iPad.