While the Kepler mission turns up its ever-growing crop of exoplanets, a group of astronomers has announced an exciting find closer to home: looking towards Scorpius, there's a super-Earth-sized planet just 22 light-years distant, with a habitable-zone orbit.
Planets with the right orbit offer the best chance of harbouring water and therefore life: they're not so distant that the water freezes, and not so close that it boils away into space.
Using public data from the European Southern Observatory, the group found evidence of at least one, and as many as three, other planets orbiting the star, according to a statement issued by the University of California Santa Cruz.
The team was led by Guillem Anglada-Escudé (then with the Carnegie Institution for Science, now with German's University of Gottingen), and Carnegie's Paul Butler, working with UCSC astronomers Steven Vogt and Eugenio Rivera.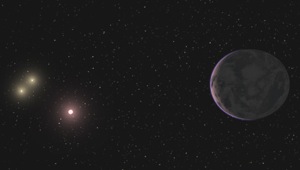 An impression of the GJ 667C system.
Guillem Anglada-Escudé, Carnegie Institution.
The research has also widened the scope of stars that might host habitable planets: the host star, GJ 667C, is an M-class dwarf star that's part of a triple-star system with two orange K dwarf stars. The discovery is a surprise because as a whole, the system is poor in elements heavier than helium: the researchers state that the concentration of atoms like iron, carbon and silicon is "only 25 percent that of our sun's".
This also gives rise to excitement among the researchers: it's generally assumed that metal-depleted star systems are less likely to play host to low-mass planets, so finding a notionally habitable planet around GJ 667C might suggest such planets are plentiful.
"This was expected to be a rather unlikely star to host planets," said Vogt, a professor of astronomy and astrophysics at UCSC. "Yet there they are, around a very nearby, metal-poor example of the most common type of star in our galaxy.
"The detection of this planet, this nearby and this soon, implies that our galaxy must be teeming with billions of potentially habitable rocky planets," Vogt said.
The new study wasn't even looking for a habitable planet, in the first instance: the UCSC release states that the team started their work with the aim of characterizing a planet that had already been discovered but which, with an orbital period of 7.2 days, was too close to be habitable.
The new "super-Earth" has 4.5 times the mass of Earth and a period of just over 28 days. Its orbit is between 0.11 and 0.23 astronomical units from its star.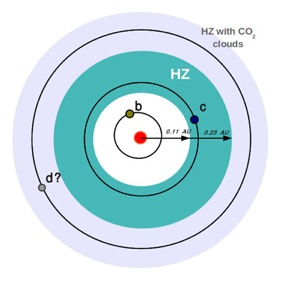 The GJ 667C system. (b) is too close for water,
(c) is in the habitable zone, and (d) is yet to be confirmed.
Guillem Anglada-Escudé, Carnegie Institution.
Because of the kind of star this planet is orbiting, in spite of its nearby orbit, it still receives only 90 percent of the light that Earth receives from the Sun. Unlike the solar radiation we receive, most of the exoplanet's incoming radiation is in the infrared and will be absorbed by the planet, so the researchers estimate that overall it receives around the same energy from its star that Earth absorbs from the Sun.
The discovery was made by combining European Southern Observatory data with observations from Hawaii's WM Keck Observatory and the new Carnegie Planet Finder Spectrograph at the Magellan II Telescope in Chile.
As well as upcoming publication in the journal Astrophysical Journal Letters, the researchers have announced that their paper will be published on the open-access Arxiv.org. ®