This article is more than 1 year old
Final Fantasy XIII-2
Terminal illness
Review Is it just me who remembers Final Fantasy III – actually, that's FF VI if you're Japanese – the mercurial tale of the evil Kefka and heroes Sabin, Edgar, Terra, et al? I recall the brilliant use of magical espers, its line-up of amazingly distinct fighters – Sabin even channelling Street Fighter-style special moves in a clever bid to keep the players on their toes – and all wrapped up in a genuinely touching fairy-tale.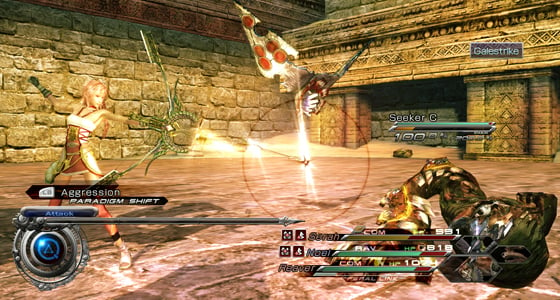 The golden shot
That was Final Fantasy at its best; reliant on strong storytelling and dynamic combat in order to grip the user. Back when a few boxes of text said more than a hundred hours of pre-rendered CGI ever could, and when a pixellated tear rolling down the cheek of a 2D sprite would convey the kind of emotion that Final Fantasy XIII-2 constantly strives for, but never comes close to achieving.
Now, I'm aware that putting out a retro-styled game in this day and age might not be smart move if Square Enix expects sales, but FF XIII-2's over-reliance on pre-rendered cutscenes is simply impossible to ignore.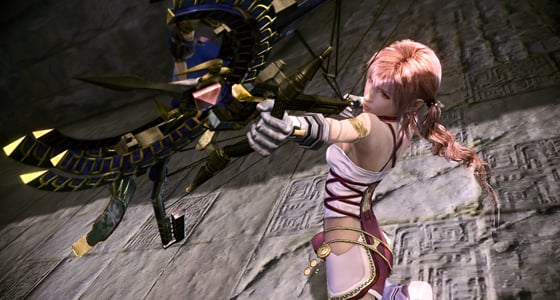 Upshot fantasy
Take the game's initial video that I stupidly sat through, an impressive 20 minute battle scene featuring FF XIII's heroine, Lightning, clashing swords with a typically anime-esque bad guy to a soaring orchestral score.
The trouble is, that once you watch it and press start, the damned thing plays out again, albeit this time complete with the character's voices – that's 40 minutes of my life gone with barely a button pushed, whatever happened to user input? Worse follows, as the player is placed in the unfeasibly slender frame of Serah, sister of Lightning, and she who spent the vast majority of the first game mercifully frozen in crystal.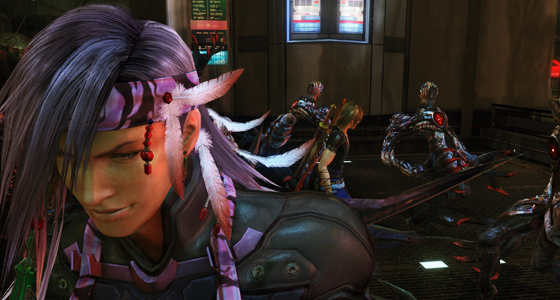 Purple gaze
Very nearly every line of dialogue Serah utters, whether during playable sections or within the confines of CGI, is supercharged with emotion – but emotion directed at whom exactly? Certainly not an audience who have been given not one reason to care as to whether Serah, her friends or her world lives or dies. Much like a frustrated actor working with a poor director, I'm left asking: Where's my motivation here?