This article is more than 1 year old
LG HLX56S net savvy 3D Blu-ray soundbar combo
Smart deco
Review LG's HLX56S is an audacious all-in-one home cinema system, cast in the guise of a mild-mannered soundbar. With integrated 3D Blu-ray player, copious amplification and IPTV portal, it's got everything you need for the upmarket man-cave, in a package easily parked beneath a 40in or larger flatscreen.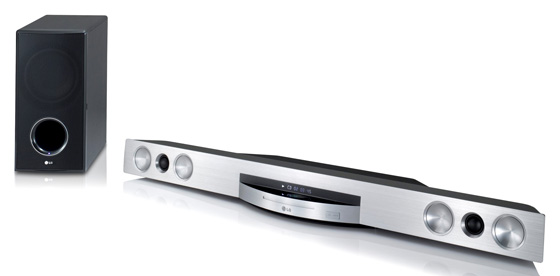 All bar one: LG's HLX56S 2.1 AV combo
Gimmicky it may be, but the HLX56S is well-made and exhibits boy-toy polish. Touch sensitive controls sing out with appreciation when stroked and the disc loading mech is as smooth as Clooney.
 Connections include two HDMIs and optical digital, with HDMI and phono video outs and Ethernet LAN. Wi-Fi is built-in. A separate wired iPod dock is included in the box.
This is a two-piece system. Partnering the main unit is a wireless, active subwoofer. It uses the 5.8GHz band, rather than a cable, for a connection and sports a 150W (into 3 Ohms, ahem) amp. Once powered up, the sub automatically handshakes with the main 'bar, making installation a snap.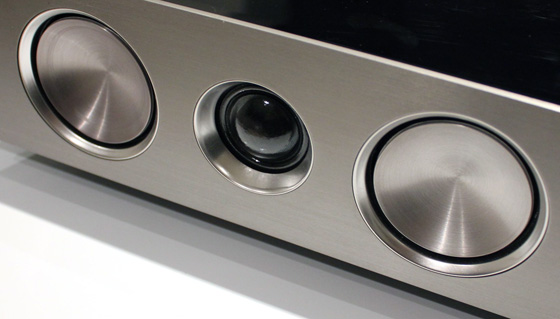 Not so shabby drivers on the soundbar
The cable-free nature of the sub also permits a certain amount of freedom when it comes to placement. LG quotes the sub's wireless range at 20m, although for best results don't locate this boom box too far from the main unit. A blue conformational light glows when a bass signal is detected.
The HLX56S isn't an exact mirror of LG's regular connected BD players (there's no MediaLink support), but there is app and IPTV access from the brand's Smart TV portal. Top line attractions here include BBC iPlayer, YouTube, Dailymotion, Cinetrailer, PictureBox, Acetrax and Box Office 365.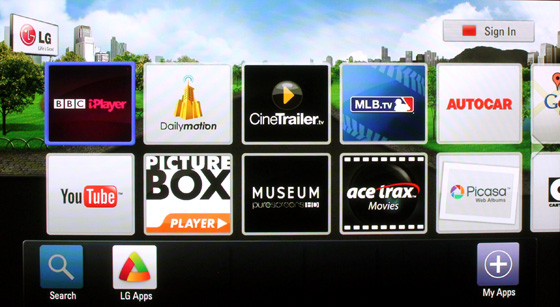 LG's Smart portal offerings
While there's an FM tuner on-board, better radio performance and more listening choice can be had from the smart portal's vTuner and Aupeo internet radio clients. There's even a lightweight web browser on board.