Riverbed lobs Granite at offices, WIPES OUT remote servers
Revs up WAN optimisation
---
Riverbed says customers can dispense completely with servers in remote and branch offices by using Granite technology layered on its Steelhead-based WAN optimisation – and so deliver all IT services to remote offices as if they were local.
Riverbed describes its technology as Edge VSI (Virtual Services Infrastructure); WAN optimisation-plus we suppose, and asserts:
[Despite WAN optimisation] for many organisations committed to complete consolidation of global infrastructure, a few servers often remain in the branch. Granite was developed to allow organisations to remove those remaining servers and achieve complete consolidation. ...

The demands of custom and write-intensive applications in the branch, the need to work with large data-sets that defy existing WAN optimisation techniques and the concern of user productivity in the face of WAN outages have forced businesses to maintain costly storage and application servers at the edge of the enterprise, increasing IT footprint and introducing administration and infrastructure overhead.
The pitch is that customers can use Granite to move those servers out of the remote offices and scrap them or put them in the data centre.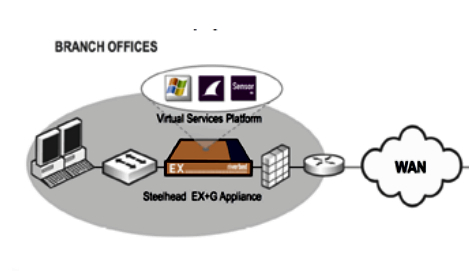 Riverbed Granite Edge
There are two parts to this: Granite Core runs as a virtual or physical appliance in the data centre and talks to Granite Edge, which is software running on a Steelhead EX product in the remote office. This includes a "Riverbed Virtual Services Platform (VSP) featuring a VMware-based virtualisation hypervisor [which will] host multiple virtual services or applications running in the branch." The technology extends iSCSI LUNs to the remote office.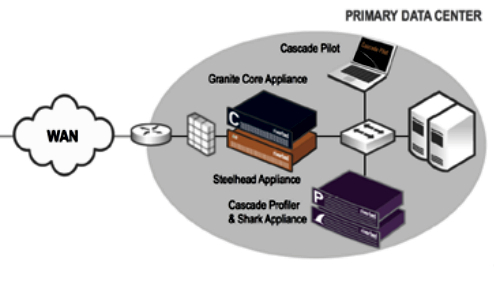 Riverbed Granite Core
Riverbed says Granite Core parallelises currently sequential server-to-storage interactions by adding file system intelligence to the block layer. It "solves bandwidth and latency problems over distributed networks, but lower in the technology stack – at the block level."
The company claims that it will: "Improve the performance of many of the most commonly used applications across the network, typically by 5-50 times and, in some cases, by up to 100 times... [and] reduce the use of WAN bandwidth by 65-95 per cent, and relieve network congestion [and] Push out costly network upgrades by two years or more."
It works across thousands of miles of WAN links and reduce IT costs in branch and remote offices while safeguarding data management and protection through centralising it in the data centre. There's goodness all round from Granite, it seems.
Some speeds and feeds
The Steelhead + Granite combo provides:
Increased hardware capacity [which] enables consolidation of multiple basic services in the branch such as print, DNS and DHCP as well as applications that require significant computing resources.
A local authoritative cache ensures LAN-speed reads and fast cold writes at the branch.
Block-storage optimisation ensures that data is centrally managed yet always available to support business operations in the branch even in the event of a WAN outage.
An active-active high availability (HA) deployment option for Granite ensures LUN availability for remote sites.
The Granite setup wizard auto-discovers storage LUNs from configured iSCSI targets, ensuring proper mapping of block-storage resources from a centralised storage area network (SAN) to Granite Edge in the branch office.
Integration with Microsoft Volume Shadow Copy Service enables consistent point-in-time data snapshots and seamless integration with backup applications.
Support for industry-standard Challenge-Handshake Authentication Protocol (CHAP) authenticates users and hosts.
A secure vault protects sensitive information using AES 256-bit encryption.
Solid state disks (SSDs) guarantee data durability and performance.
Easy to use wizard configuration and an intuitive user interface simplify setup and management.
Customisable reports for utilisation, performance, and diagnostic information.
Riverbed has various analyst firms – such as ESG, Taneja and Forrester – backing up its Granite claims. There is a Granite data sheet here (PDF). We are left thinking that, firstly, this sounds wonderful, and, secondly, wouldn't faster server-storage interaction benefit local users as well as remote office users?
Granite should be generally available later this quarter. There is no word on pricing. ®