RIM is offering software coders free tablets if they'll make their Android apps available through its PlayBook app store.
RIM's 7in tablet, the BlackBerry PlayBook, runs Android apps using special translation software. Android code needs to be tweaked for the RIM runtime then repackaged and code-signed before it can be made available through the BB AppWorld shop.
Some developers have done so, but clearly RIM doesn't think enough of them have. So Alec Saunders, RIM's head of developer relations, Tweeted last night that the Canadian company will give a free Playbook to developers who uploaded their runtime-ready apps to AppWorld before 13 February.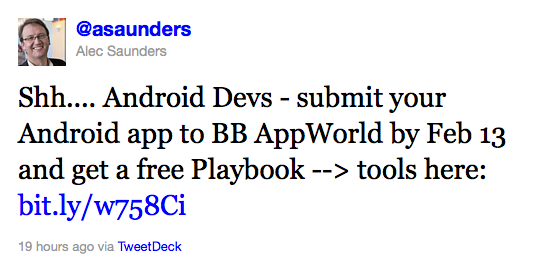 RIM is desperate to shift PlayBooks, which have failed to set the market alight. It has slashed the price in the US, and last week followed suit over here, reducing the entry level, 16GB PlayBook to just £169.
It has its eye on the future too, though. Leaked roadmap information shows RIM has more tablets coming to market in 2012: an updated seven-incher in a 10in PlayBook. These too will run suitably tailored Android apps, so the more code RIM readies now the better it will be when the 'PlayBook 2' goes on sale. ®