Bone-bothering US boffins have identified a new species of prehistoric crocodile, nicknamed "Shieldcroc" because of a flat ornamental skin shield on its ginormous head.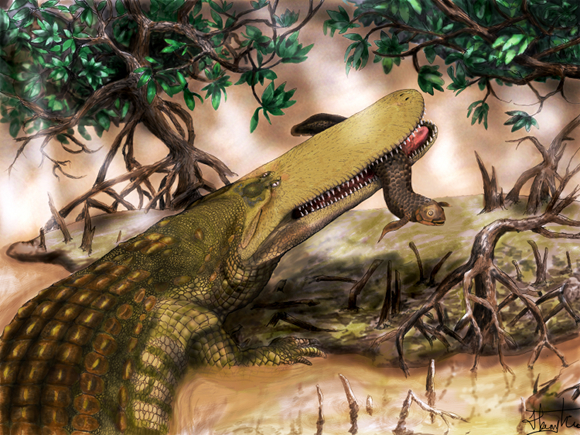 Rather cartoony artist's rendition of Shieldcroc. Credit: Henry P. Tsai, University of Missouri
The hard-headed Aegisuchus witmeri is one of modern-day crocs' earliest ancestors found in Africa, the researchers claim.
"Along with other discoveries, we are finding that crocodile ancestors are far more diverse than scientists previously realised," researcher and anatomical boffin Casey Holliday said.
The scientists reckon Shieldcrocs were wandering the Earth around 95 million years ago in the Late Cretaceous period, when dinosaurs were also still about. The fossilised skull specimen Holliday identified was discovered in Morocco and had been in the Royal Ontario Museum in Toronto for a few years already.
By looking at the blood-vessel scarring on the skull, the boffins figured out that the croc had a circular mound of skin on its head, which has never been seen before in crocodiles. This "shield" was probably used to attract mates and intimidate enemies, and could also have had a biological function as a thermo-regulator to stop the croc becoming too hot-headed.
Analysing the skull also led the researchers to guess that the size of the prehistoric beast was somewhere in the region of 30 feet long, five feet of which was just its head.
However, despite how ferocious the ancient reptile sounds, Shieldcroc was probably relatively peaceable, since it had a flatter skull and its jaws were the thin kind used to eat fish, rather than strong meat-killing-and-eating jaws.
"We believe Shieldcroc may have used its long face as a fish trap," said co-researcher Nick Gardner. "It is possible that it lay in wait until an unsuspecting fish swam in front of it. Then, if it was close enough, Shieldcroc simply opened its mouth and ate the fish without a struggle, eliminating the need for strong jaws."
The researchers' study was published in the journal PLoS One.®