Review Surely someone is having a laugh. Having read nothing but five-star reviews of this luxury notebook on other sources, I find myself surprised to be staring at a four-star product on my desk. Four stars is pretty good, you know, but that's one less than five.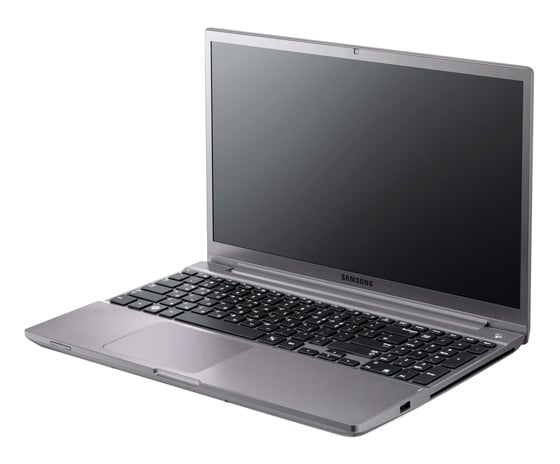 All in good time: Samsung's Series 7 Chronos
What am I missing with the Samsung Series 7 Chronos? Given that other reviewers were dribbling, going crosseyed and climaxing over its charms (hopefully not over the keyboard too), why am I not feeling the love when the real thing is straddling my own thighs?
To start with, contrary to what you might read elsewhere, the Samsung Series 7 Chronos looks and feels nothing like an Apple MacBook Pro. Any attempt to compare them and put the Chronos on some kind of MacBookinator ranking is misleading, patronising to Samsung and an utter waste of your time. I happen to like both products, but in different ways. My taste includes both snails and oysters, pal.

Two USB 3.0 ports on-board...
Secondly, it's not cheap. Unless you find it discounted somewhere, the Samsung Series 7 Chronos costs just under a grand. "Oh but it's so much cheaper than a MacBook," you cry. So the fact that it's cheaper than a stratospherically priced product that is nothing like it is signficant, is it? OK, well the Samsung Series 7 Chronos is also cheaper than a Chelsea townhouse. Five stars!
Please let's enjoy this refractory period to take a realistic look at this otherwise impressive, modern and thoroughly usable notebook computer.

...and an optical drive too, but no Blu-ray
The case appears to be covered with – as opposed to built from – an aluminium-magnesium alloy. It has smooth edges and gently curved lines, making it comfortable to carry. Despite the apparent metallic exterior, you can squeeze the case and hear plastic creaking underneath; with the lid open, you can tweak and bend the display just like you can with cheap plastic notebooks.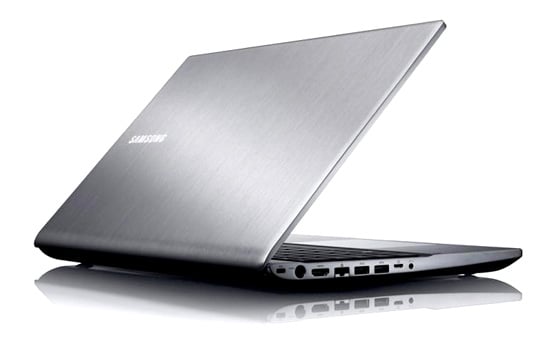 Although encased in a metallic alloy, the case can still be tweaked as if it was plastic
On that point, as you open the lid, the Samsung Series 7 Chronos remains glued to your desktop rather than tipping backwards. This is a sign of thoughtful hardware design.