The chip biz didn't do as badly as many had feared it might last summer, closing out 2011 with $299.5bn in worldwide sales, up four-tenths of a per cent from the record $298.3bn revenue level set in 2010.
All the news was not good, however, since global semiconductor sales took a big hit in December, according to stats compiled by the Semiconductor Industry Association. Chip sales were off 5.5 per cent sequentially to $23.8bn in December, and for the fourth quarter, sales were off 7.7 per cent compared to the third quarter of 2011 and down 5.3 per cent compared to the final quarter of 2010.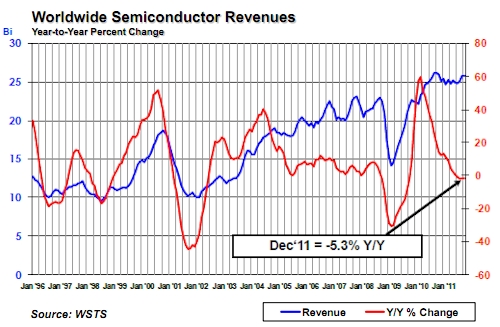 Monthly worldwide semiconductor sales, minus the December update.
Semiconductor revenues have been running at about $25bn, plus or minus a little, throughout 2011. (The SIA chart above was not updated properly to show sales in December, but it shows the trend since January 2006. This is SIA's error, not ours.)
The SIA data is a bit funky in that SIA takes a three-month rolling average for each month that it looks at – so the December number is the average of October, November, and December, thus smoothing out some bumps in the data. But even still, as you can see from the chart above, chip sales have tended to be a lot more spikey than through 2011, which has been relatively flat. Considering all of the price pressure on chips of all kinds, this is not just remarkable, but downright unnatural.
"Between the natural disasters in Japan and Thailand and the overall impact of a weak global economy, 2011 presented a number of major challenges for the semiconductor industry," explained Brian Toohey, president of the SIA, in a statement accompanying the sales figures for December. "Despite these setbacks the industry showed resiliency and posted year on year growth with record-breaking revenues for 2011. The health of the industry is a direct reflection of the pervasiveness of semiconductor innovations and their applications in almost every aspect of modern society."
That, and the fact that all of us are packing more chips than a Terminator.
SIA said that microprocessors accounted for $65.2bn in revenues in 2011, up 7.5 per cent from 2010, driven by strong sales of servers and PCs in the enterprise computing market. Logic chips accounted for the largest share of the semiconductor pie last year (although SIA did not divulge how much revenue logic generated). Sales of optoelectric chips rose by 6.4 per cent to $23.1bn last year, pushed up by lamps and image sensors. And speaking of that, sensor and actuator circuits, which are a small piece of the market today, had 15.5 per cent revenue growth in 2011, to $8bn.
Comparing the three-month rolling average ending in December to the same period in 2010, semiconductor sales to companies in the Asia/Pacific region – where most chippery is welded into gadgetry – actually fell by 1.6 per cent to $13.1bn. Not surprisingly, sales in Japan were off 9.5 per cent, to $3.59bn, and chip sales in Europe absolutely stunk, falling 15.8 per cent to $2.78bn. Chip sales in the Americas fell by 4.6 per cent to $4.36bn.
SIA has said previously that it expects "further improvement" in chip sales for 2012, but has yet to put out its forecast. ®