This article is more than 1 year old
Colorfly Pocket Hi-Fi C4
The audiophiles' PMP
Review The true audiophile is likely to have many questions concerning the Colorfly Pocket Hi-Fi, but chief among them is likely to be 'How f*%&ing much??!?' At £549 this Chinese-made high fidelity portable music player is nobody's idea of a bargain, but if you're one of those brave souls who still cares about sound quality, who appreciates the convenience of digital but feels cheated by the compressed sound, Colorfly might just have something here.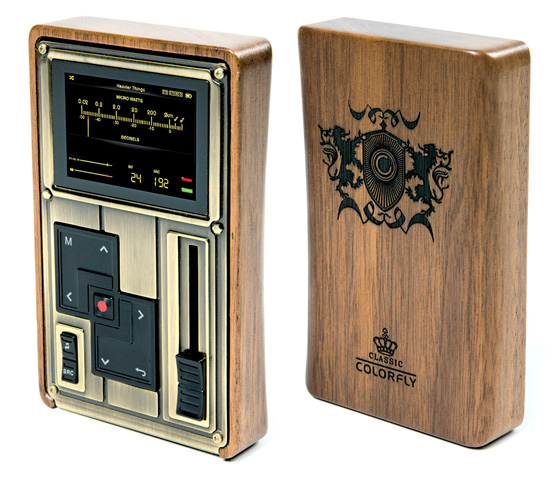 Listening skills: Colorfly's Pocket Hi-Fi C4
Everything about the Colorfly is designed to give the impression of quality, from the black walnut wood shell with engraved back to the supplied gold-plated USB/mini USB cable. At least some of this is pure affectation – gold-plated connections may be popular on hi-fi gear, apparently delivering a more robust connection, but on USB cable this seems like overkill.
The old-school aesthetics of the volume slider and big, chunky buttons won't appeal to everyone, but it feels very solidly built and combined with the interface – that includes metering of your audio levels – gives the air of reliability and class.
Virtually all digital music players these days make claims for 'great sound quality' but few take it to the extremes of the Colorfly Pocket Hi-Fi. It claims to be the only portable player capable of handling 24bit/192kHz audio files. By comparison, CD audio is 16-bit/44.1kHz and you could argue that there's no real need for such a high resolution, but music production kit is capable of producing recordings at this level, and so here's a portable player to match.
Among the controls, the music note button lets you scroll through the half-dozen equaliser settings. The SRC button has upsampling options which will help clocking with other high-end digital gear – the Colorfly does feature coax S/PDIF I/O, after all – and any noticeable audible benefits of effectively oversampling will be in the ear of the beholder.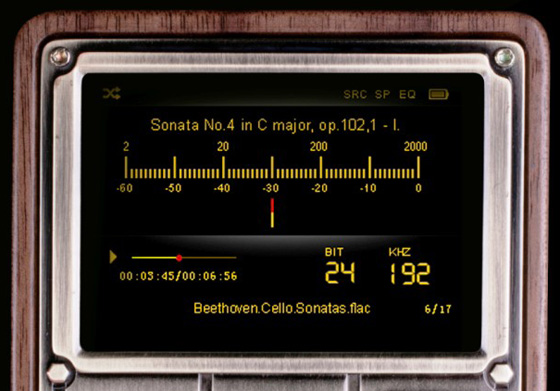 Metering on-screen: ah, takes you back
Admittedly, you might need the hearing of a dog to notice improvements in high frequency decoding the Colorfly has the potential to deliver. Likewise, the Colorfly makes great play out of the C4's jitter performance – minimising timing errors that have an impact on vocal reproduction.