This article is more than 1 year old
ViewSonic V350 dual Sim Android smartphone
For business and pleasure
Review Every now and again, a brand new product comes along that seems to hark back to days of yore, to a time when things were different. One of those things would be the steam-powered PC, another is the ViewSonic V350 – a smartphone that can work on two networks simultaneously.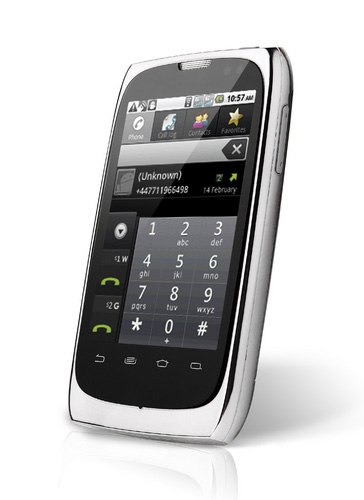 Dual of the dial: ViewSonic's V350
There was a time, back in the early days of mobiles, when dual SIM handsets were fairly common, but they're seldom seen these days. With lower prices these days, if you really need an extra handset, you don't have to splash too much cash for a budget dialler.
But if you really can't be arsed to carry two handsets, either because you work as a drug dealer, have a secret number you want to keep from your partner, or perhaps if you regularly travel abroad, then a dual-SIM handset could well be a convenient option.
Truth be told, first impressions don't mark the V350 out as a quality handset. Its chunky plastic casing feels a bit too flexible and flimsy to inspire confidence. The display doesn't help, with its 3.5in screen offering a relatively low 480 x 320-pixel resolution. Not terrible, but a bit fuzzy looking compared with the best.
Visually, this would still be tolerable, but the screen does lack sensitivity. Its unresponsiveness makes getting what you want frustrating on occasion, as you press the icons several times begging them to take notice of you.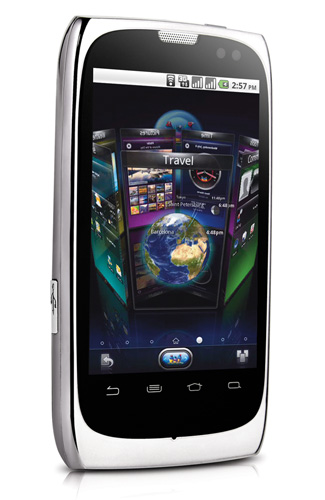 ViewScene 3D is ViewSonic's own spin on the Android Froyo OS
On start up, there's a choice of interfaces – standard Android and ViewSonic's own ViewScene 3D (see what they did there?), which is actually nothing of the sort. It basically offers a slightly different view of Android and while it does have some OK-looking widgets, none of them are really 'better' than the Android UI alternatives, but they're fine for a change.