'App Economy' has created 466,000 US jobs
Thanks to Apple, Google, Facebook...
---
Although Apple may be facing mounting criticism for outsourcing its manufacturing beyond US shores, creating 700,000 jobs in China and elsewhere, one tech-industry advocacy group claims that Apple, the Android ecosystem, Facebook, and lesser lights account for roughly 466,000 US jobs in what it calls the "App Economy".
"Nothing illustrates the job-creating power of innovation better than the App Economy," writes economist Michael Mandel in a report published on Tuesday by TechNet, a group self-described as "the preeminent bipartisan political network of CEOs and Seniors Executives that promotes the growth of technology-led innovation."
The report, "Where the Jobs Are: The App Economy", attempts to enumerate the jobs created by the "incredibly rapid rise of smartphones, tablets, and social media, and the applications – 'apps' – that run on them," a burgeoning industry that the report refers to as "perhaps the biggest economic and technological phenomenon today."
TechNet used The Conference Board's Help-Wanted OnLine database of employment want ads to create its estimate, counting jobs offered "for programmers, for user interface designers, for marketers, for managers, for support staff" in the so-called App Economy, named after a 2009 article in Businessweek.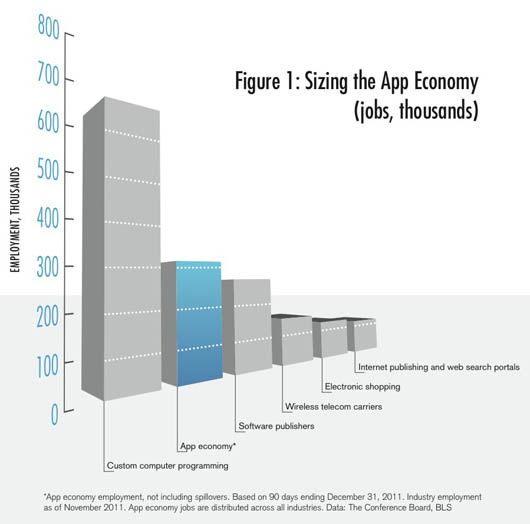 The size of the App Economy (not counting spillovers) compared with other tech sectors
According to TechNet, the total number of jobs in the App Economy rose from exactly zero in 2007, the year that the iPhone was introduced, to 466,000 today. Jobs counted included those in "pure" app firms such as Zynga, "app-related" jobs at companies such as Electronic Arts, Amazon, and AT&T, and app "infrastructure" jobs at Google, Apple, and Facebook.
As is customary with such employment-estimation attempts, the survey also included what the study refers to as "employment spillovers to the rest of the economy." That said, the spillover multiplier of 1.5 that the study used is rather conservative when compared with those used by other such studies.
Although the study asserts that "App Economy jobs are spread around the country," it notes that a full 23.8 per cent of them are to be found in California, with a total of 14.8 per cent being in the San Franisco Bay Area, home to Silicon Valley. The next largest statewide coterie of appsters – 6.9 per cent – is in New York.
"How big can the App Economy get", the sudy concludes. "That depends in many ways on the future of wireless and social networks. If wireless and social network platforms continue to grow, then we can expect the App Economy to grow along with them." ®