Sir Paul McCartney, late of Wings, will celebrate the release of his latest album with a live concert streamed over Apple's iTunes this Thursday at 7pm, Pacific Time.
Unfortunately for our UK readership, that'll be 3am for British fans of the 69-year-old song stylist – and we can only guess that such an hour is a wee bit late for aging fans of the aging moptop.
The performance will be streamed from Capitol Studios – "in the heart of Hollywood" – and is being held to promote McCartney's latest album, somewhat disturbingly entitled Kisses on the Bottom.
A younger Hofner-bass devotee is prominently featured on Apple's website as bait for the iTunes offerings of works by his first band, which didn't show up in Apple's online music store until November 16, 2010.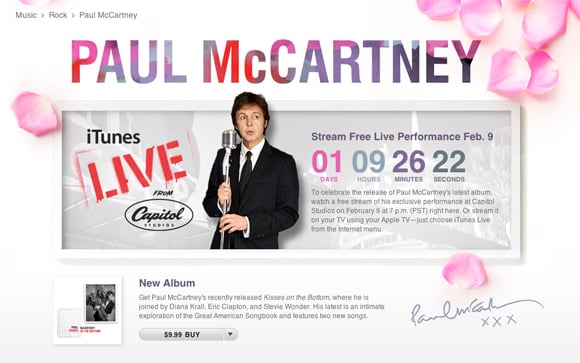 Yes, Sir Paul's 35th iTunes Store contribution is, indeed, named Kisses on the Bottom (click to enlarge)
That oeuvre's arrival in Apple's collection was preceeded by years of rumors that began almost immediately after the iTunes Store was launched in April 2003. At one point there was even talk of the collected works of John Winston Lennon, James Paul McCartney, George (possibly Harold) Harrison, and Richard Starkey being sold in a standalone, band-branded online store, but those came to naught.
And then there was the matter of multiple lawsuits between Apple (née Computer) and Apple Corps Ltd., the multi-divisional corporation managing the affairs and holdings of the ex-Liverpudlian phenoms since January 1968 – after Sgt. Pepper's Lonely Hearts Club Band and before The Beatles (aka The White Album), for those of you who might remember those heady years.
But all those days of contention are long gone, and McCartney will be freely sharing his own brand of treacle – in the New Oxford American Dictionary sense of "cloying sentimentality or flattery," not the British sense of "molasses" – this Thursday in Hollywood.
For those fans who are tingling in anticipation of hearing Sir Paul's renditions of "Ac-Cent-Tchu-Ate the Positive", "It's Only a Paper Moon", and "My Very Good Friend the Milkman" from Kisses on the Bottom, do know that Apple is providing a second-by-second countdown clock on iTunes at Music > Rock > Paul McCartney. ®