This article is more than 1 year old
Toshiba 14in USB LCD Mobile Monitor
Panel beater?
Review It sounds like a great idea: a 14in LCD monitor that connects using USB. Perfect for tablets, netbooks and mobile phones, right? Well no, because it doesn't work with them.
That's not to say Toshiba's Monitor is entirely without merit. It's a neat looking device, similar in size to a slim laptop and weighing the same as a typical tablet. It comes in a leather-look case which folds out into a stand for the display, nice'n'easy.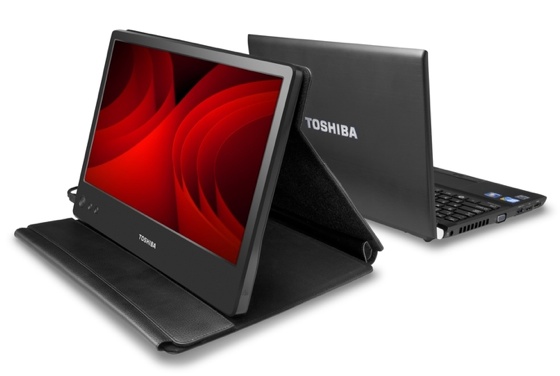 Double your notebook's screen area
This is very much a PC machine. It's not compatible with Macs, or Linux, and the spec sheet says it will only work with Windows XP, Vista and 7. So in other words, you're limited to a range of devices which probably have a similar size screen as the monitor.
Mind you, the spec says that it won't work with Windows 7 Starter, the operating system which you'll generally find on netbooks. It does, though, or at least it did on mine, and Toshiba hasn't ruled out the possibility of future updates.
Incidentally, the drivers come supplied on a CD, useless for most netbooks. It took a call to Tosh to find a downloadable version on the net.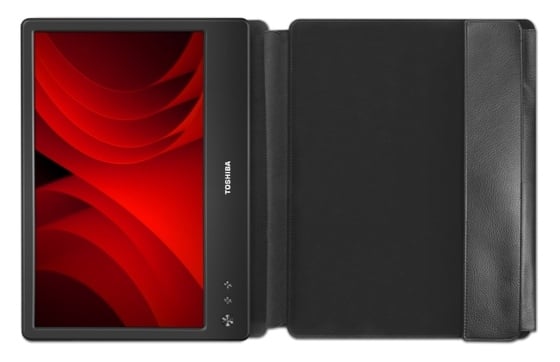 The monitor comes in its own leather-look case...
Controls are scant – on the device itself there's only a power key and a brace of buttons to adjust the brightness. Around the sides are a single mini USB port and a 19V power jack. There's no power cable supplied, though – if you want one, you'll have to buy it for about £12.
Toshiba expects you to rely on the power coming from your laptop, which is convenient, and fine if you can have it plugged into the mains, but quite a drain if you have to use the battery. It cut the battery life on one laptop I tried it with almost in half.
The screen looks pretty good though, offering a maximum 1366 x 768 resolution with 256,000 colours – not the very sharpest but certainly not bad. Video played without any lag or stuttering and there was no delay when moving the cursor around. It doesn't offer full brightness when connected solely by USB, though, just 50 per cent, so for the full experience, you'll need to pay extra for that power lead.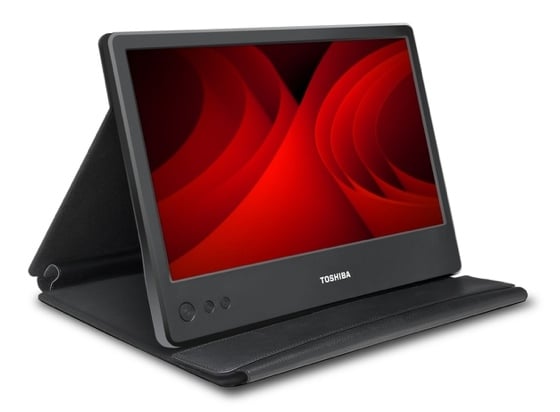 ...that doubles up as a stand
The one cable that is supplied is USB to micro USB, and there are two full-size USB plugs on it, just in case your laptop isn't able to provide enough power through a single USB port. Usefully, the leather-look casing has a cable management system which allows you to tuck the cable out of sight.
Once you're all connected and drivers installed, there's not a great deal to it. You can set it up using the Display settings in Control Panel as either a duplicate display, allowing you to control your presentation with the screen facing in the opposite direction. Or you can use it as an additional screen, pulling items across from your laptop display to the Monitor and vice versa, extending your working area.
Useful features all. The trouble is that it really could have been so much more. As it stands, it can really only appeal to a very niche market. It's more expensive than a standard desktop monitor which you might use to increase your working display area. And if you want to carry it to presentations, it's probably going to be roughly the same size as the laptop you'll be holding your presentation on.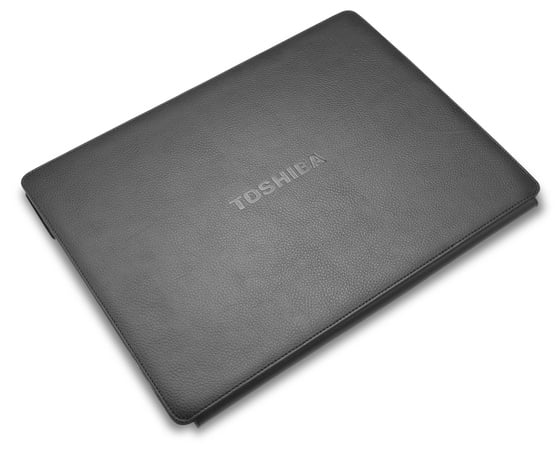 Natty, no?
A device like this could have been ideally placed to take advantage of the growth of tablets and smartphones. As Motorola has already tried with its Atrix range, with accessories including a screen and keyboard which allow you to turn your handset into a laptop, or Sony Ericsson with its LiveDock system - no screen, but you can add a mouse and keyboard to your handset - there's potential for hardware extras for these devices.
So you could save - or even prepare - your presentation on your smartphone and then only have to carry this relatively lightweight display to show it off, rather than a full-size laptop. If you've become accustomed to your tablet - especially the reduced size likes of Motorola's Xoom 2 Media Edition or the Dell Streak 7 - a larger, portable screen could come in very handy.
Oh well, better luck next time, Tosh.
Verdict
Toshiba's 14in USB monitor isn't bad as far as it goes, but it could have been so much more. With greater versatility to allow you to use it with Android tablets or smart phones it would have appealed to a lot more users. ®
More Peripheral Reviews

Wacom Bamboo Fun
Lindy wireless display extender
Apple Thunderbolt Display
LG LSM-100 Mouse Scanner
Kingston Wi-Drive

Toshiba 14in USB LCD Mobile Monitor
A lightweight, portable LCD monitor which connects to your laptop by USB.