This article is more than 1 year old
LOHAN lifts skirt on 3D printed parts
Our Vulture 2 spaceplane to get the laser sintering treatment
Video There are champagne corks popping today at Special Project Bureau headquarters as we announce we've cut a deal to have our Vulture 2 aircraft hewn from living nylon.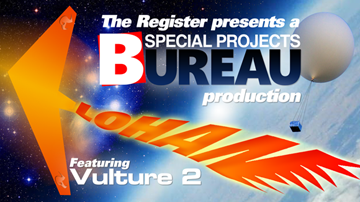 Followers of our audacious Low Orbit Helium Assisted Navigator (LOHAN) mission will know that we've already hooked up with an elite bunch of undergraduates from Southampton University, who'll design our next-generation rocket-powered spaceplane.
Last year, the university launched the world's first aircraft created entirely by selective laser sintering (SLS).
Mightily impressed, we popped down for a chat with professor Jim Scanlan and 3T RPD Ltd, who manufactured the Southampton University Laser Sintered Aircraft, known as "Sulsa". Here's a quick vid grabbed on our visit, giving an overview of SLS and the benefits to LOHAN:
As a result of our trip, and subsequent negotiations, 3T RPD has marvellously agreed to climb aboard LOHAN, with CAD support and the loving creation of our Vulture 2.
Doubtless you'll be thinking that SLS is a hideously expensive process accesible only to those with very deep pockets. In fact, it's cheaper than you might think, and in our case the speed of the process will save us a considerable number of construction hours we can usefully dedicate to other aspects of the project.*
Obviously, mission secrecy means we're not going to reveal just how much of a hit the wallet's going to take for a sintered Vulture 2, but if you've got something of your own on the boil which might benefit from SLS, why not give 3T RPD a shout and get a quote?
It just remains for us to welcome our SLS partners to what is shaping up to be a very exciting high-altitude initiative, with a welcome injection of cutting-edge tech. ®
Bootnote
*Before the aficionados of garden-shed boffinry among you start whining that we've sold out to the sintering machine, rest assured that there's still plenty of hands-on tomfoolery lined up for LOHAN.
Further LOHAN resources:
You can find full LOHAN coverage right here.
All the LOHAN and Paper Aircraft Released Into Space (PARIS) vids live on YouTube.
For our photo archive, proceed directly to Flickr.