Wedding bokeh?
The metal shutter button is raised and can't be mistaken for the tiny, recessed power switch nearby. Over on the the left hand side, past the hot shoe, is a button to enter playback mode and a catch to release the tiny built-in flash which springs out on an unexpectedly long hinged cantilever much like a jack-in-a-box.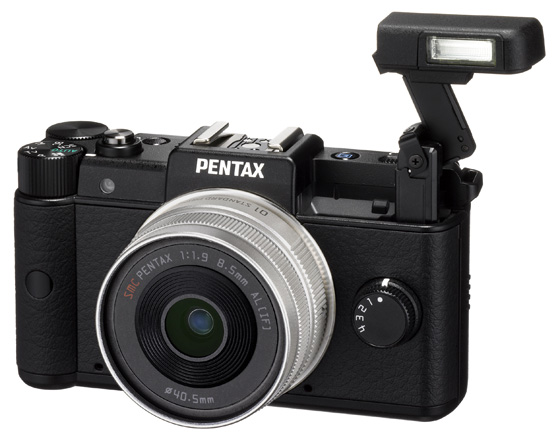 A pop-up flash by anyone's standards
On the front of the camera, a programmable five-position 'quick dial' let's you choose from a selection of four pre-set camera configurations which you can set up beforehand via the menus.
Key to the design of the Q is its use of interchangeable lenses: Due to the Q's small image sensor, the specially-designed Q-mount lenses are correspondingly teeny-weeny: The smallest examples being about the size of one of those little round pots of lip-balm. They're also very, very light. To put this into context, I carried the Q along with four lenses in a single jacket pocket, hardly noticing the weight at all. If you've tried that with any other camera system, you'll appreciate just how much of a difference the Q setup can make.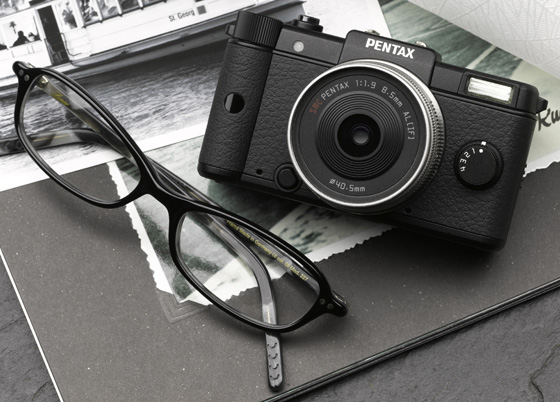 Indubitably dinky
The review sample came fitted with a non-zooming or 'prime' lens with a wide aperture of f1.9. Its focal length of 8.5mm translates to a field of view equivalent to a 47mm lens in 35mm terms, which makes it great for natural-looking people shots and street photography. It's a great lens to leave on the camera pretty much all the time and yes, it will fit into a jeans pocket albeit in a somewhat embarrassing 'or are you just pleased to see me' kind of way.
The aperture opens wide enough to allow some degree of bokeh – as shown in the toy monkey image, but you'll have to have your subject extremely close to get a strong effect. This is where the aforementioned 'Blur Control' mode comes in, allowing the Q to shoot up to three differently-focused images and combine them to create artificially enhanced bokeh.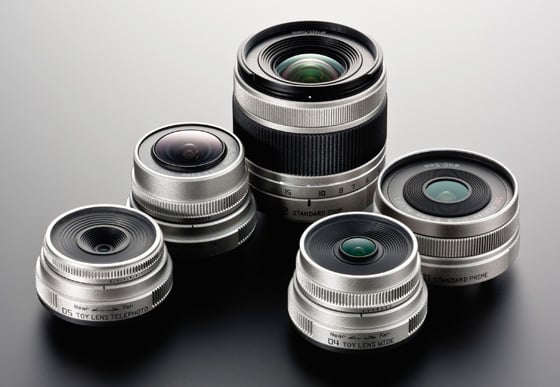 A useful array of lenses to suit its 5.5x crop factor
Considerably larger is the optional 5-15mm zoom. A 35mm equivalent to 27.5-83mm it covers medium–wide to portrait focal lengths and still opens up to a relatively bright f/2.8 at the wide end of the range. Both of these lenses support autofocus and incorporate mechanical shutters. The 3.2mm diagonal fish eye is, however, without either of these features and must therefore be focused manually while relying on the Q's electronic shutter.