Even in the hearts of Apple fanbois, there's room to love another human being as well as machinery. But it's better if the human receiving that love also has an iPad, say those who are presumably experts in the matter.
Working on the basis that Apple fanbois/girls will be happier if they date other lovers of fruitchomp-branded hardware - rather than, say, the owners of a Dell Inspiron - the website Cupidtino has been helping Apple fans hook up with one another since 2010. The San Fran-based developers behind the dating site set it up as a semi-joke after one of the guys' girlfriends accused him of spending too much time with his iPad. But it has found its market and is still going 2 years later.
It's an Apple-only dating site and yes, of course, there's an iPhone and iPad app and you have to be using Safari on a Mac to register. If you only have a PC don't even bother.
With about 30,000 users, Cupidtino remains a niche interest: more mainstream dating sites such as OkayCupid post member figures of 3.5 million active users, and eHarmony claims to have about 33 million. It's free to sign up, but costs $4.79 a month to receive messages. But the users come back because they know what they're getting.
Assuming that you, gentle reader, aren't already a member of Cupidtino, let's pull aside the (smart) cover and stare deep into the dark yet shiny world of fanboi lusts and loves. It's that bloody time of year after all.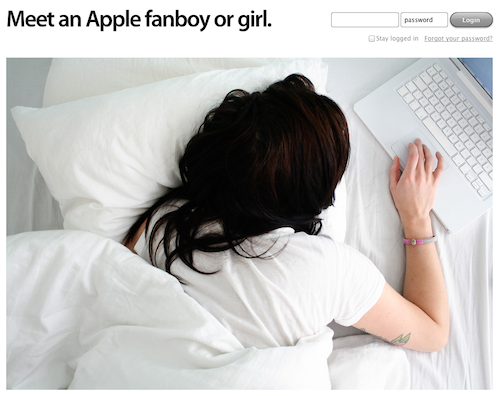 First things first, fandom is about much more than a preference for very expensive unibody hardware. It's a lifestyle choice. If you don't get that then go back to your soulless Dell box, kick open Windows and run down to Wetherspoons at closing time if you want some hope of physical interaction with the opposite sex. (Only joking.) But as the Cupidtino people put it, your computer choice defines who you are, and having a Mac says certain things about you.
These things specifically:
Diehard Mac & Apple fans often have a lot in com­mon — per­son­al­ities, cre­ative pro­fes­sions, a sim­i­lar sense of style and aesthetics, taste, and a love for technology.
And Cupidtino is where you can hang out with these slab-fondling innovators:
As Apple fans we love to hang out in cafés with our Mac­books and iPhones. Part of what we pay for is a chance to run into another geek who's just as much into pho­tog­ra­phy, design, Net­flix, hybrids, the BBC, HTML5, polar bears, Wired, Whole Foods, Cold­play and Angry Birds as we are. Cupidtino is like that neigh­bor­hood café where the peo­ple are hip, decor is classy, con­ver­sa­tion is intel­li­gent and prices are rea­son­able.
There you go. You love that hip neighbourhood cafe don't you. Taking for granted that you already work in graphic design and have a giant cuddly polar bear in your sitting room, one way to help yourself stand out as a real fan on the site is to get an Apple tattoo.
As far as fanboy stereotypes go, berets don't seem to be in evidence, I haven't seen any turtle-necks on the site and there are no Steve Jobs quotes ... But there are tattoos of the Apple logo. And well, what better way of showing your dedication to the the brand and flashing a tantalising bit of skin. Cupidtino advisor Kintan Brahmbhatt says:
There are a lot of people with tattoos of apple gadgets, or apple logos or with Apple scarves or Apple logos on their cars.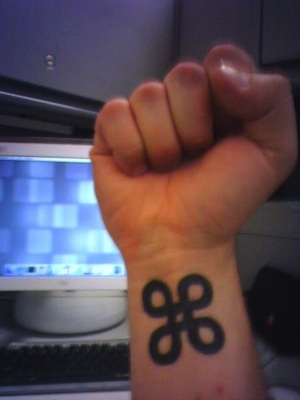 Kintan was at pains to stress to the Reg that these tattooed creative types are not weirdos, they're regular types.
"Most of the people are regular people with a very defined taste. A lot of them are eco friendly, very liberal - these are the main stereotypes that we see coming up on the site. They live their lives normally."