NASA is looking at the possibility of parking a manned outpost beside the Moon as a way station for astronauts on their way to deep space missions.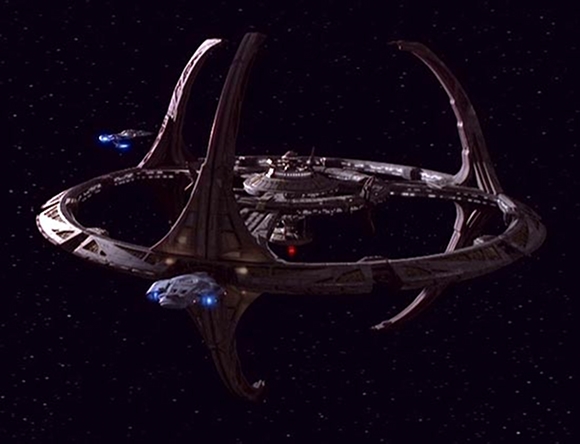 The way station probably won't look anything like this.
According to a memo from William Gerstenmaier, NASA's associate administrator for human exploration and operations, cited by Space.com, the agency is putting together a team to assess the possibilities of a potential location on the far side of the Moon known as Earth-Moon libration point 2 (EML-2).
Libration, or Lagrangian, points are parking spots in space where a small object is equally affected by the gravitational pull of two large masses, which cancel each other out, holding the craft in place.
The agency is looking at using the heavy-lift rocket Space Launch System and the Orion crewship as "the foundational elements" for the stationary craft.
A craft at EML-2 could allow exploration and experimentation on near-lunar space, asteroids and the Moon, as well as being a stop-off point for missions to Mars and Martian moons.
The waystation would also see astronauts travelling the farthest into space they've been so far.
A NASA Lunar Science Institute's LUNAR Centre white paper pointed out that "an EML-2 mission would have astronauts traveling 15 per cent farther from Earth than did the Apollo astronauts, and spending almost three times longer in deep space".
"This is extremely exciting from both the exploration and science sides," Jack Burns, director of LUNAR (Lunar University Network for Astrophysics Research) said. "This mission concept seems to be really taking off now because it is unique and offers the prospects of doing something significant outside of low-Earth orbit within this decade."
Burns and his team have been working with Lockheed Martin for more than a year to plan an Orion mission that would go into a halo orbit of the EML-2.
Gerstenmaier's memo pointed out that EML-2 "is a complex region of cis-lunar space that has certain advantages as an initial staging point for exploration, but may also have some disadvantages that must be well understood".
A NASA team has been picked out to look at some near-term missions to EML-2 "as we continue to refine our understanding and the implications of using this waypoint as part of the broader exploration capability development".
The team is due to complete its study by the end of March. ®
Sponsored: How to simplify data protection on Amazon Web Services