Commercial Linux distributor Canonical has released its third annual survey of the Ubuntu Server installed base to show what is going on out there among the Shuttleworth faithful. The survey comes just as Canonical is getting ready to put its next big server release into the field in April.
Depending on how you slice up the Linux server racket, Ubuntu is number one, number two, or number three. On the Amazon EC2 compute cloud, it was the most popular Linux distro for quite a while. After Canonical got out in front of Red Hat and SUSE Linux a few years back by embedding the Eucalyptus cloud controller into its server distro, you could argue that it was the dominant Linux-based private cloud foundation, too.
In terms of raw adoption among corporations, though, Red Hat's Enterprise Linux has a commanding lead over SUSE Linux Enterprise Server and Canonical Ubuntu Server, though it is hard to say at this point who is number two and who is number three. It is likely – but by no means certain given that the SUSE Linux division of Attachmate and Canonical are both private companies and don't report revenues from their respective Linuxes – that SUSE Linux generates more revenues than Ubuntu Server because it has a wider base of corporate software certifications. But it is entirely possible that the Ubuntu Server base by machine count – be it virtual or physical machine – is larger. No one really knows.
Open source is anonymous by default and therefore hard to count, so the vendors have more trouble than those who sell licensed code and do all kinds of tracking. That's why companies like Canonical have to do surveys of their own users (who are not always paying customers) to try to get a sense of what is happening out there.
Canonical wrapped up its latest survey of the Ubuntu Server base as 2011 was coming to a close, and it had over 6,000 shops respond to the survey. Gerry Carr, director of communications at the Linux distie, blogged a bit about the server survey, the results of which you can see here (PDF).
As you might expect, Ubuntu Server's killer apps are web, database, and file serving, the three jobs that Linux got its start on back in the late 1990s.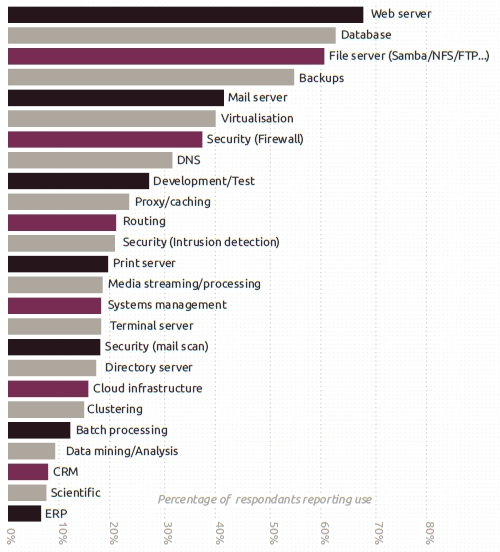 Workloads running on Ubuntu Server
As you can see, data mining, enterprise resource planning, customer relationship management, and other key workloads that have been on proprietary, Unix, and Windows platforms for many years are not prevalent on Ubuntu Server. Getting certified to run these stacks is a pain in the neck, costs a lot of dough, and may not actually yield much result considering that Canonical has to go up against Red Hat, which is certified for many of these apps and which has lots of money to play the game. (Just ask SUSE Linux how hard it is to keep pace with Red Hat in this regard.) Canonical is wise to play to its infrastructure strengths and position its Linux as the foundation for Xen and KVM clouds.
Speaking of hypervisors, Ubuntu shops have a lot of them, and at the moment VMware's various ESX hypervisors are the most popular ones deploying virtualized instances of Ubuntu. Over 1,500 respondents saying they used a VMware hypervisor for virtualized Ubuntu, with about 1,150 (reading from the graph in the survey report) using KVM.
Ubuntu switched to KVM from Xen a few years back, and it is not surprising that Xen's popularity as a server slicer has diminished. Xen and VirtualBox, the freebie and open source hypervisor for x86 iron from Oracle, are about neck and neck at this point, with about half as many users as KVM. VirtualIron (remember that?), Virtuozzo and OpenVZ, and vServer all have a smattering of users. Microsoft's Hyper-V did not make the cut.
As you might expect, the Long Term Server (LTS) releases of Ubuntu Server are popular among Canonical's users and paying customers. This was the case at the end of 2009, which was the last time that Canonical did a Linux user survey, ahead of the launch of Ubuntu Server 10.04 LTS. With the normal Ubuntu Server, releases are supported for 18 months, but with the special LTS releases, the code is supported for five years, including bug fixes, security patches, and enablement on new hardware as it comes to market.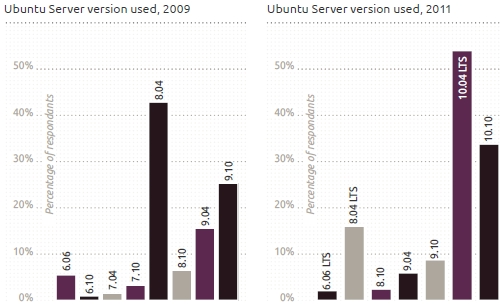 Ubuntu Server release distribution, 2009 versus 2011
Some customers like to stay out there on the bleeding edge with Ubuntu Server, as El Reg has discussed in the past. But these days, as you can see in the chart above, the uptake of LTS releases was particularly strong in the past two years. So much so, in fact, that Ubuntu Server 11.04 and Ubuntu Server 11.11 don't even show up in the survey data.
Shops are no doubt waiting for Ubuntu Server 12.04, code-named "Precise Pangolin" and an LTS release, to come out. Canonical already supports ARM servers in its 11.10 release as well as fluffing up OpenStack clouds. The ARM support was a tech preview, however, but should be hardened for real-world use by April's 12.04 LTS release.
Back in October, when Ubuntu Server 11.10 came out, Canonical said that OpenStack was ready for primetime use, but you can be pretty sure that commercial customers are waiting for LTS. Think about it: Rackspace Hosting joined NASA to start the OpenStack project, and it still has not moved its own cloudy infrastructure to OpenStack yet. ®
Similar topics