This article is more than 1 year old
HP previews ProLiant Gen8 servers
Project Voyager launches Xeon E5s
You can look at HP's new ProLiant Gen8 servers, but you can't touch. At the company's Global Partner Conference in Las Vegas this week, HP previewed some of the forthcoming machines' capabilities, but – much to the chagrin of hardware enthusiasts – didn't talk about the processors, system boards, and other "slots and watts" stats of the Gen8 iron.
Blame Intel, which has not yet launched its "Sandy Bridge-EP" Xeon E5 processors, which are due sometime in the first quarter and upon which at least some of the Gen8 machines will be based.
Because it could not talk much about server feeds and speeds, HP's top brass talked about an array of management technologies that have been developed for the past two years under a $300m series of engineering efforts to revamp its server lines. The ProLiant Gen8 machines were "Project Voyager", and the main goal was to make servers a lot easier to manage and to give them substantially more I/O and storage bandwidth.
The Gen8 machines will support PCI-Express 3.0 peripheral slots – as everyone expects the Xeon E5 machines to – but they will also sport new HP SmartArray disk controllers that are tuned for solid state disks and to offer more secure three-disk mirroring as well as tweaks in the memory modules that will let them run 25 per cent faster than other platforms while at the same time correcting for common memory errors.
The Project Voyager effort sits alongside Project Moonshot, the low-energy server effort that HP announced back in early November, and Project Odyssey, revealed later that month, that will bring the Xeon processors from Intel to the Integrity and Superdome 2 classes of Itanium-based machines, while at the same time goosing Linux and Windows to be more HP-UX-like.
HP is not, however, abandoning its Itanium-based Integrity and Superdome machines, nor is it abandoning HP-UX. So don't get the wrong idea. But it is conceding that some customers want the attributes of an HP-UX system but with commodity hardware and software. Add these three projects up, and HP is shelling out $300m over two years of development.
The ProLiant Gen8 machines, HP says, incorporate over 150 new features that were driven by customer requirements. Mark Potter, general manager of the Industry Standard Servers and Software division at HP, said during a webcast previewing the Gen8 boxes that the company has applied for over 900 patents relating to the new technology it has developed. One of these, called Smart Socket, is a revamped Xeon processor socket that HP developed in conjunction with Intel to make sure that partners and customers who add processors to ProLiant servers don't bend the pins.
The servers also include a feature called Smart Drive, which makes it easier to identify what drive has gone bad so admins don't yank out a working drive and corrupt data. According to Potter, Smart Socket and Smart Drive solve two problems that are major causes of damage and downtime in the data center.
There are four families of ProLiant Gen8 machines rolling out over the next several months, starting with a few machines in March, according to John Gromala, director of marketing for the ISSS division at HP.
The ProLiant Gen8 servers will eventually replace the current ProLiant G7 servers, which are based on Xeon 5500 and 5600 and Opteron 6100 and 6200 processors. As you can see from the image above, there will be ProLiant ML towers aimed at SMBs and departments, traditional ProLiant DL rack servers aimed at the data center, ProLiant SL high-density servers aimed at hyperscale cloud and supercomputing installations, and ProLiant BL blade servers. Pricing is expected to be in the same ballpark as the current G7 iron, according to Gromala.
HP has a new brushed-aluminum look with funky air vents, and is clearly trying to add a little pizzazz to its ProLiants.
One of the focal areas on the ProLiant Gen8 servers is storage, and that is because storage needs – both capacity and I/O bandwidth – are growing faster than CPU or networking needs, Gromala tells El Reg. For $1 spent on storage in the data center, there is another $6 in ripple-through costs for servers, operations and maintenance, power, and cooling – that's about 90 cents for the server, about $2.70 for managing the server that talks to the storage, and another $3.30 to $3.50 for power and cooling costs for the servers and the storage together.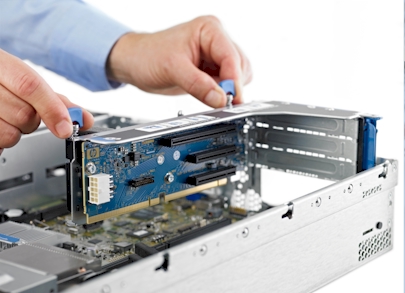 HP ProLiant Gen8: Intel Inside – but we can't talk about that
Potter said that the new SmartArray controllers, when paired with SSDs and PCI-Express 3.0 slots, would be able to drive 50 per cent better OLTP performance, and for other kinds of workloads could deliver a factor of 6X improvement in I/O operations per second.
With SSDs, a ProLiant Gen8 box can push 500,000 IOPS from a single chassis, which Potter said was 100 times more I/O than the same machine using hard disk drives. The SmartArray controllers also have a feature called Advanced Data Mirroring, which does mirroring over three drives instead of the normal two, By HP's math that increases the resiliency of a server's data by a factor of 1000X.
The bulk of what HP can talk about with the new ProLiant Gen8 machines is all of the integrated management and automation that it has brought to bear on the new machines. While this is not as exciting as shiny new hardware, it is perhaps more important in an era in which we need to get the most work possible out of servers and people alike. We'll drill down into those management features in a follow-up story. ®
Bootnote
If the ProLiant Gen8 will replace the current ProLiant G7, why isn't it called the ProLiant G8? After all, every vendor uses G for "generation" and numbers to tick off its products as they are enhanced eventually gets to G8. Well, although a few decades ago this wouldn't have mattered, it just so happens that the sound "gee-ate" in Mandarin sounds exactly like a slang word for "penis." Hence the new Gen8 designation. If Gen8 means something weird in another language, please do let us know.