The Mozilla Foundation is coming to the rescue of Tim Berners-Lee's sanity.
The Firefox shop is this year throwing itself at walled gardens from Apple, Amazon, Google and Microsoft: armed with a device-neutral and API-neutral app store and a "web platform".
Mozilla's building a Marketplace for Apps that will open in June and serve web-ified apps to smartphones, tables and desktops regardless of hardware, operating system or maker.
That's the promise at least.
Announcing its 2012 roadmap, here, Mozilla said: "Through this Marketplace, developers will be able to distribute and monetize their apps. Users will be able to find, install and use their Apps across all of their devices, regardless of the underlying device/OS platforms."
Android, Windows, Mac, Linux and Apple's iOS are all being targeted, although the grand Mozilla vision for how the web is being siloed can be seen here and below.
Mozilla's always subscribed to the idea of the "free" web, both from a technological and cultural perspective, and sees itself on a mission to keep things open.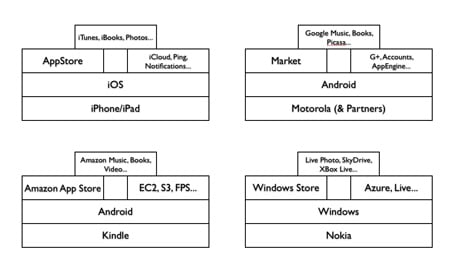 Mozilla's view of hardware-app-store web lock-in
When you don't own an operating system, search engine or enjoy a hardware hegemony, freedom is an easy cause to follow.
Mozilla's philosophy runs counter to the current push among tech companies, begun by Apple and amplified by Facebook, to lock people's data in to proprietary formats, behind closed walls or using proprietary links. Apple links data – both media and apps – to its own hardware, an idea monster online retailer Amazon is now following with the Kindle and which Microsoft is running to embrace with marketplaces for Windows 8 and Windows phones.
It's all so different to the 1990s view of how we thought the web should – and would – be, when all you needed was a browser and a website... and it's enough to make Tim Berners-Lee weep. Berners-Lee wrote the world's first WWW server, Httpd, and client, WorldWideWeb, a what-you-see-is-what-you-get (WYSIWYG) hypertext browser/editor that ran in the NeXTStep environment.
In 2010 Berners-Lee wrote at length about how walled and proprietary web gardens such as Apple's iTunes are killing the ubiquitous web. He called for continued open standards.
Mozilla seems to buy into this. Announcing its 2012 plans this week, Mozilla said: "Mozilla believes that the web is the platform and the entire web should be your marketplace. To this end, we are building products and services across three different threads."