This article is more than 1 year old
Prada Phone by LG 3.0
Diallers are a girl's best friend?
Review Why is black and white classier than colour? And should we want our phones, with their increasingly glorious screens, to mute their rainbow hues? It's the arrival of LG's third collaboration with Prada that's raised these questions – a handset that favours an interface dressed mostly in black and white.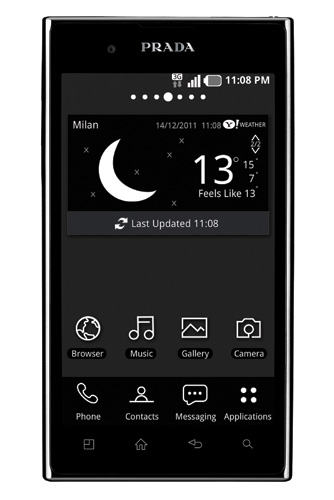 Glamour puss: Prada Phone by LG 3.0
This stylish UI makeover features scores of monochrome shortcut icons that are matched, unsurprisingly, with hardware that's almost entirely black and white, apart from a gleaming Prada logo and three tiny chrome buttons on the top edge. The Prada logo on the front, by the way, is very subtle. It catches the light on part of the logo at a time, so it gleams like a diamond as you move the phone, instead of the whole word glowing uniformly. There's classy.

Gingerbread for now, but will support upgrading to Ice Cream Sandwich
The phone oozes elegance. It's tall and catwalk-slim at just 8.5mm, with a pleasingly tactile back – its texture being Prada's signature Saffiono pattern – which combined with the screen and gloss-edged case all feels very high-end. At 4.3in the display is undoubtedly big and that plain black background is complemented by white outline images for apps. It looks great. Even the weather app has been remodelled in monochromer. There are colour wallpapers available, but they look suddenly rather garish in comparison.
Which leads to a problem when you download an app and feel its colour icon is just too gaudy. No matter, LG has a solution. Hold the shortcut icon and a paintbrush picture appears, revealing a palette of around 80 white line drawn icons you can replace the colour ones with. It's simple but oddly satisfying. The phone's build quality is extremely good. No surprise, perhaps, but it feels solid yet light for its size (138g), sturdy but understated.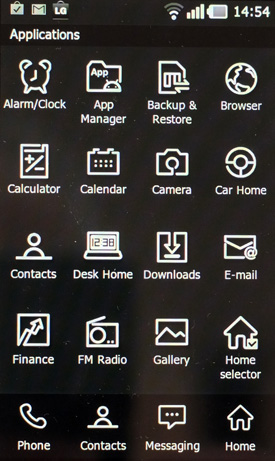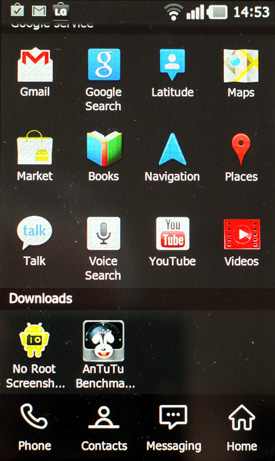 Menu screens
One more style thing before we get to substance. The lock screen shows time, date and network on what looks like a black background. Change the wallpaper to colour, though, and you realise that this lock screen is a translucent one, so the new wallpaper is gently visible beneath. Ah, it's the little things.