This article is more than 1 year old
Linux talent shortage drives up salaries
Pick your perquisites, Penguin people
It pays to be a Linux expert, and if you have any needs that are not being met by your employer and you have Linux skills, now might be a good time to start making some demands.
The Linux Foundation, the non-profit consortium that fosters the expansion of Linux and which gives Linus Torvalds his paycheck, tag-teamed with Dice Holdings, the jobs posting site, to get a handle on what's going on out there in the Linux workforce in terms of salaries, benefits, and working conditions.
The deep sort on Dice's Linux-related data has been put together in a Linux Jobs Report by the foundation, which you can get here (PDF). The report is based on data from more than 2,300 IT managers in the corporate and government sectors and headhunters from around the world.
Across the respondents, 81 per cent told Dice that demand for Linux techies is on the rise, but finding Linux experts is "somewhat difficult". When demand exceeds supply, prices rise, as we all know from our Microeconomics 101 courses.
A spokesperson for Dice tells El Reg that in 2009, salaries across Linux professional roles – programmers and system administrators mostly – were up 1 per cent and then went flat in 2010, but last year they rose 5 per cent and, equally importantly, there was a 15 per cent increase in bonuses.
The Linux Jobs Report did not give precise numbers, but Dice tells El Reg that the average IT salary came to $81,327 last year, up 2 per cent, which is considerably lower than the $86,432 average salary for Linux gurus and growing slower than the 5 per cent jump Linux-related salaries saw.
Given the demand for Linux talent, 66 per cent of those polled told Dice that they were doing all kinds of things to try to retain and attract Linux talent. So if you have a hankering to bring your dog to work, not bathe for days at a time, and get a Jolt machine installed in your cubicle, here's your chance. But these are the kinds of things IT managers and headhunters think they can offer: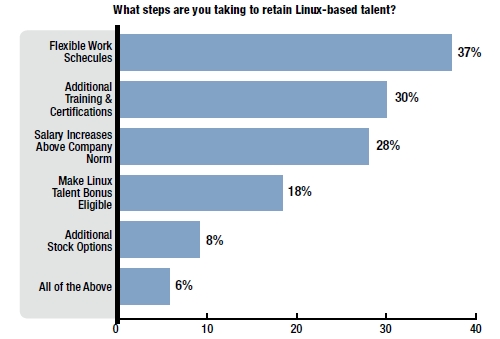 Pick your perks, Penguin people
Among those hiring managers taking the survey (or the headhunters acting as their proxies), 67 per cent of those polled said they were looking for Linux developers and 55 per cent said they needed Linux system administrators. Another 20 per cent said they needed IT managers with Linux experience, and 15 per cent were looking for outside Linux consultants to work on a contract basis. The majority of companies – 75 per cent, to be precise – are looking for Linux experts with three to five years of experience. Among the largest enterprises (those with more than 500 employees), 49 per cent of IT managers or their headhunters are looking for Linux application developers and 46 per cent are looking for Linux kernel developers.
"Not only do these companies rely on Linux-based systems to power their businesses, they're also becoming increasingly involved with core Linux kernel development and contributing more back to the kernel," the salary report states. "They require in-depth understanding at the kernel and application levels, providing a lucrative niche for some Linux developers."
Meanwhile in Blighty demand for Linux nerds isn't quite as hot as in the US and Asia. However, Richard Nott, of British jobsite CWJobs, said the number of Linux jobs posted on his site has increased by 13 per cent since 2009 - with the average salary for an IT professional working in this area currently at £47,500. He said:
With Linux growing in popularity as the operating system of choice for many new smartphones, tablets, games consoles and TVs, we would expect demand for this skill set to continue to grow in the coming years as consumer technologies such as these affirm their presence in modern society.
®