iOS App of the Week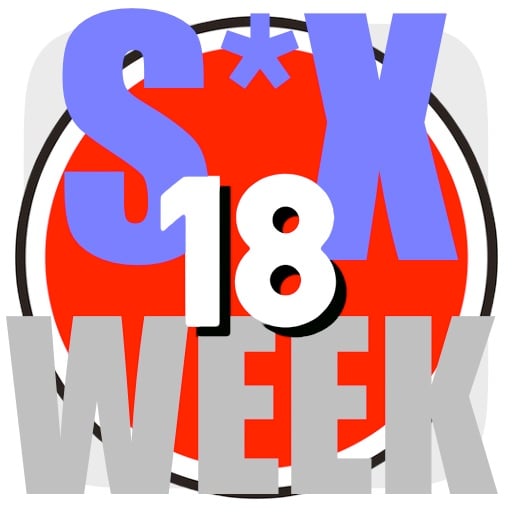 Apple, in its infinite prudery wisdom, has decided to protect users of iOS devices from any material that it deems "inappropriate" or "overtly sexual". Dating apps have to be constantly monitored by developers to ensure that your profile pics don't show too much, and even the mighty Playboy has had to bow to the no naughty bits rule.
After wading through a truly dispiriting selection of smutty schoolboy apps, I can honestly attest that there is nothing in the iTunes App Store that is even remotely capable of engendering a stirring in your nether regions.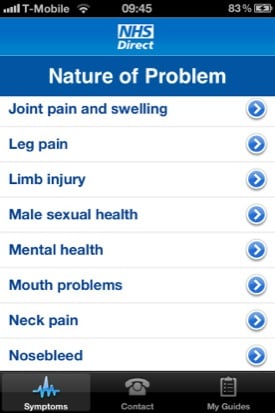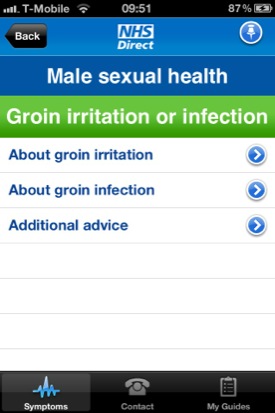 Unlike Apple, the NHS acknowledges human sexuality
Even the various sexual health apps seem to be a bit of a rip-off, with most of them charging 69p for regurgitating a few paragraphs of text that could have been copied off the back of a Durex box.
And so, with a heavy heart and sagging loins, I found myself turning to the free NHS Direct app. In among the advice for treating burns, insect bites and DIY brain surgery, you will find two sections that deal with sexual health for men and women.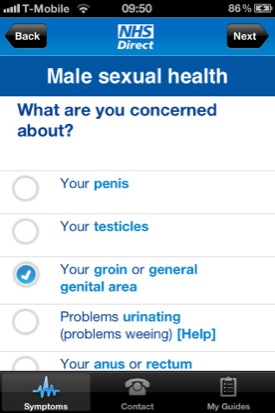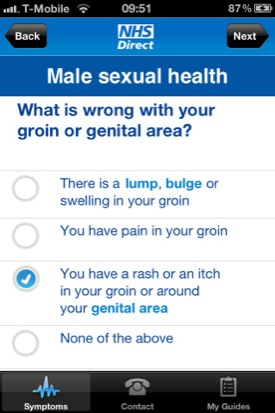 Probes your problems
Some of the information is fairly general textbook stuff, discussing different parts of the body and the symptoms of various sexually transmitted diseases. However, there's also more specific on-the-spot advice for when things go wrong, such as emergency morning-after contraception for women, or advice for men who may need to remove objects or small mammals from you-know-where.
As well as asking for your age, the app also asks for your postcode so that it can provide up-to-date information about local clinics and services in your area. However, the app does state that this information is kept anonymous and, of course, you can always make something up if you want to be extra safe.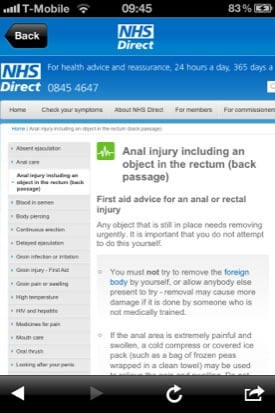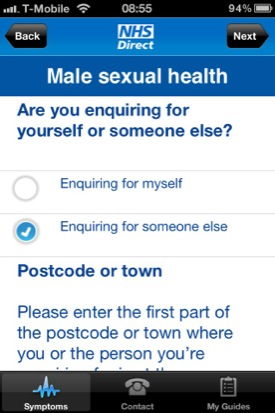 It just slipped into my... er... friend
It's probably worth downloading NHS Direct simply to make sure you've got all that contact information to hand in the event of any medical emergency. And if the app can reassure you, or help you to deal with the aftermath of a less-than-successful sexual episode, then it will have earned its keep. ®
We make our selection of the best iPhone, iPod and iPad downloads every Thursday. It you think there's an app we should be considering, please let us know.
More iOS App of the Week Winners

Red Cross
First Aid
CNN
TVCatchup
Errands To-Do List
Samsung Remote

NHS Direct
About as erotic as cold rice pudding, but this health app can hold your hand when things go wrong.