UK record company revenues should be at record levels, given the phenomenal export success of the domestic music industry – but income declined slightly by 3.4 per cent last year. Once again, the increase in digital revenue failed to make up for the decline in CD sales, which were down by 14 per cent.
Overall the British Phonographic Industry (BPI) reckons that UK record companies realised revenue of £795.4m. Digital sales are now a third of that, up from 27.4 per cent in 2010.
DVDs and Blu Ray discs were worth £25.8m to the recorded music industry, but that's still more than subscription music streaming (£24m) or free streaming services (£10.7m). Digital album downloads rose 43 per cent to £117.8m while single tracks, ordered a la carte, were worth £120m. The slowing of the a la carte trend is interesting – it shows that if the music industry produces albums worth buying, people will happily buy the album.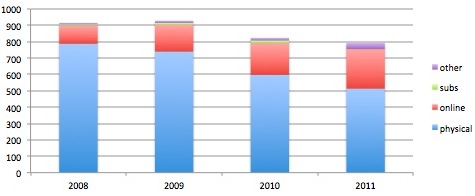 Trade revenue for recorded music, UK, 2008-2011 (£m)
Note that these numbers exclude the cuts taken by retailers such as HMV, and don't account for public performance royalties to publishers, songwriters and composers. The tiny singles market is almost an accounting error, worth £3.3m.
2011 was a particularly strong year for UK music, and the British music industry remains one of the UK's strongest cultural assets: we're one of only three countries in the world with a positive "music royalty balance". Which means that foreign countries pay more to hear British music than we pay to hear theirs. The USA and Sweden are the others.
For all the grumblings from academics about "lobbynomics", it seems that the economics success is what gets the British music business heard in power. Now if only Shoreditch's "leisure startups" could match such a success. ®