This article is more than 1 year old
New Mac OS X: Mountain Lion roars at unauthorised apps
Apple-approved software welcome, desktop is the new fondleslab
Apple released a developer preview of Mountain Lion today before the new operating system is let out of its cage in the summer.
It's the ninth major iteration of the Mac OS X operating system, replacing Lion, and from Apple's roundup of its features, version 10.8 marks a much closer integration with iOS devices. Apple goes so far to say that it is "inspired by the iPad" - presumably referring to the decision to tie the Mac closer to the App Store.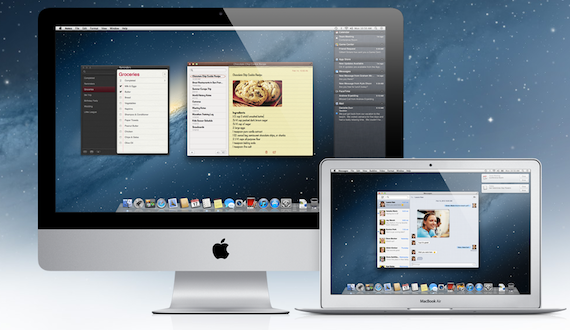 Mountain Lion: A roaring success or another brick in the walled garden?
iOS apps make the Mac
Several popular iOS apps have been rolled up into the OS and will run across all Apple devices, harmonising the experience for users. It's all backed by iCloud accessed through the user's Apple login.
The biggest new feature for users will be Messages: Lion's instant chat feature iChat will be replaced by the Messages app (available now as a separate beta download for the keen). Messages on Mac will sync with Messages on iPhone and iPad, and will allow Mac users to chat to iPhoners and iPadders for free in one place - carrying on conversations from different devices, and syncing contacts across gadgets in one big Apple chat circle.
The arrival of the Games Centre on Mountain Lion means that social games can be played across devices too, and several smart productivity apps have been pegged into Mountain Lion - Reminders, Notes and a Notification Centre that syncs up calendars.
Other quirks include deep Twitter integration including the option to tweet straight from Safari and the ability to send any photo on the computer straight to Twitter. "Share Sheets" - drop-down menus in apps and Safari - make it easy to ping files and webpages around via email or Messages.
Gatekeeper and why Apple want to put a gate on your Mac
The cute UI stuff aside, one of the most significant changes from Lion is Gatekeeper and much closer weaving of the App Store into the Mac.
Thanks to Gatekeeper the default setting of Mountain Lion OS is that you can only run software from Apple-approved sources - unless you can be bothered to dismiss warnings from the system.
Gatekeeper is a security feature that controls what software your Mac can install - helpful of course in keeping Macs virus-free, but arguably a little restrictive. The Apple press release lays out the options:
You can choose to install apps from any source, just as you do on a Mac today, or you can use the safer default setting to install apps from the Mac App Store, along with apps from developers that have a unique Developer ID from Apple. For maximum security, you can set Gatekeeper to only allow apps from the Mac App Store to be downloaded and installed.
It's not just about virus protection. Apple's iOS and iTunes experiences have taught the tech titan that there's money to be made by "gatekeeping" - whether that's controlling access to music, apps or magazines, and it's not surprising that they're trying to stick up a few gates on Macs as well as their mobile devices.
Going for China
Another important theme in the operating system release is the focus on Chinese users. An area that has obviously caught Apple supremo Tim Cook's eye following the huge profits that Apple have reaped from sales in the region.
Mountain Lion also has features specifically designed to support Chinese users, including significant enhancements to the Chinese input method and the option to select Baidu search in Safari. Mountain Lion makes it easy to set up Contacts, Mail and Calendar with top email service providers QQ, 126 and 163. Chinese users can also upload video via Share Sheets directly to leading video websites Youku and Tudou, and system-wide support for Sina weibo makes microblogging easy.
A Mountain Lion pre-release is available for download to those in the Mac Developer Program. ®