This article is more than 1 year old
The Darkness II
Shadow people
Review On paper, there's very little to like about The Darkness II. Take your character Jackie Estacado, for starters. Even before taking into account the unspeakable evil to which he is host, few gaming protagonists are as monstrously unsympathetic as the contract killer turned mob boss.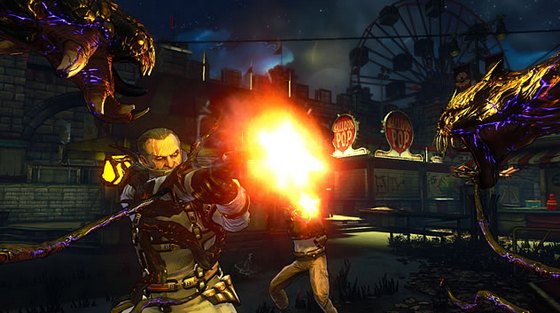 Hit the fairground
Then consider the game's central conceit, 'quad-wielding', which augments regular gunplay with the manifestation of The Darkness: two hideous, serpent-like appendages that burst from Jackie's shoulders with an insatiable bloodlust.
And how about the clichés? The supporting cast of pasta-eating Goombahs called Vinnie or Jimmy or Chief. Or the spectre of his brutally murdered girlfriend Jenny, the "only good thing in his life", fuelling Jackie's inexorable descent into hell?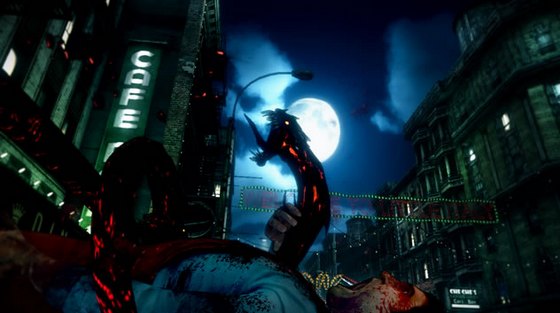 Knocking one out got a bit messy
So is there anything to prevent The Darkness II's own descent towards the hell of the pre-owned shelf? Well, surprisingly, plenty. Its mechanics might feel contrived to punch a niche into a saturated market and its narrative employ some tired conventions, but within the confines of an interactive B-movie, The Darkness II is a thrilling barnstormer of a shooter.
In remaining true to its source, it's also a game of intelligent contrast. Ripping out an enemy's spinal cord through his sphincter or eating his still-beating heart to regain health are obvious grotesqueries, even when tempered graphically by stylised cel-shading and cross-hatching. But the supernatural comic book horrors prove less shocking, splattered across the backdrop of a brutal criminal underworld.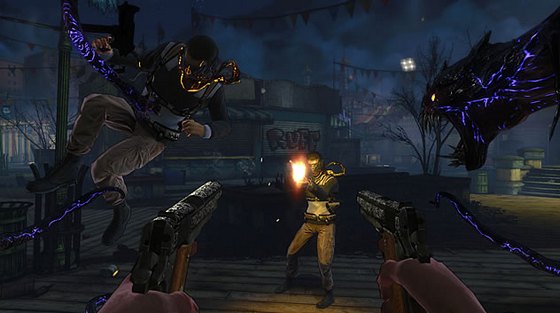 Day of the tentacle
For all its Mafia clichés and ribald humour, it's a disturbingly mature depiction of violence and vice. Here, vendettas are repaid by butchering innocent family members in front of your eyes and clients pay to beat-up prostitutes in squalid, factory-sized whorehouses.