German boffins have discovered the world's smallest chameleon in Madagascar while picking through leaf litter.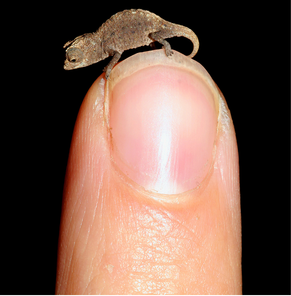 Scientist don't know why Brookesia micra is so small.
It is not clear why island dwarfism occurs. Image va PLoS One
The critter-hunters found the new species on the tiny islet of Nosy Hara, just off the northern coast of Madagascar.
"It's always an exciting moment to discover a new species," says Frank Glaw of the Zoological State Collection of Munich in Germany, who wore a head torch to hunt down the specimens.
Once back in the lab, Glaw used genetic analysis to confirm he had found a new species and published the research in PLoS One. "Brookesia micra was very special because… it is distinctly smaller than all other known species."
The chameleon measures 29mm (1.1 inches) from its nose to the end of its tail, placing it top among miniature lizards. Two types of gecko from the Caribbean have shorter body lengths, but B. micra is smaller when tails are taken into account.
B micra lives in the leaf litter during the day, which can make it very hard to spot. At dusk, it climbs onto tree branches 5 to 20cm (2 to 8 inches) off the ground to sleep. Staying close to the forest floor, Glaw and his colleagues searched through fallen foliage and branches to find the little mites.
"I know one place [where] it's easy to find them during the day, but normally you find them at night," Glaw says. "You search with torches and headlamps. You have to go close to the ground. They are sleeping."
Glaw added that once the researchers found a "hot spot", they can pick up two or three specimens within half an hour.
The team did not set out to find the world's smallest chameleon on this expedition. Glaw's researchers were surveying for all amphibians and reptiles and had never before encountered dwarf chameleons in the limestone islets off Madagascar.
According to Glaw, it is not clear why island dwarfism occurs, but it could be that mini-meleons survive due to a smaller number of local competing species. Since Nosy Hara is protected as a nature reserve with almost no human activity, B micra is thought to be safe.
But its cousins, the other Brookesia species, which live on the much larger island of Madagascar, may not fare as well. Although the dwarf chameleons' habitats are protected, Glaw has observed burning and logging. Glaw says, "Maybe that has stopped now, but I have not much hope because the political situation in Madagascar is not stable at the moment."
Rivaling the World's Smallest Reptiles: Discovery of Miniaturized and Microendemic New Species of Leaf Chameleons (Brookesia) from Northern Madagascar, by Frank Glaw1, Jörn Köhler, Ted Townsend and Miguel Vences is published in PLoS One. ®