CloudOn brings Office to UK iPad users
Microsoft silent on free app
---
After a rocky start, CloudOn is now opening its free application, which allows limited use of Microsoft's Office suite on an iPad, to UK users.
The application works in synchronization with the online file sharing service Dropbox, and allows users to view and edit Word documents and PowerPoint presentations, as well as to manipulate pivot tables in Excel. The files have to be stored in a Dropbox account that CloudOn can access, only Office 2010 apps are supported, and the app is useless without internet access.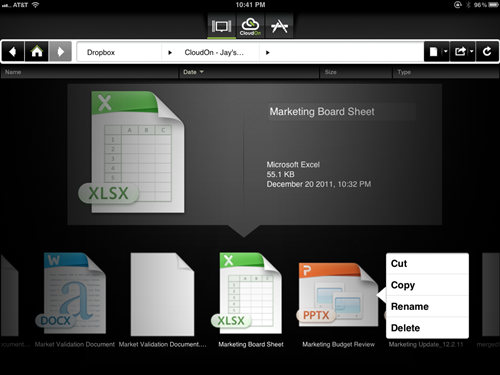 How will Microsoft react?
US users have been able to use CloudOn since the start of this year, although the service was initially suspended shortly after launch because the company said it had "sold out". Since CloudOn runs the Office software in emulation on its servers, this could mean that they'd reached the limits of scaling for support.
The British launch was scheduled for an earlier release, but was then pulled at the last minute before being launched this Friday. CloudOn said this was down to Apple taking its time accepting the application, but declined to give any more details.
While the ability to handle Microsoft Office documents on an iPad will be welcome to many, Redmond itself might have other ideas. In a call to analysts this week, Microsoft CFO Peter Klein ducked questions about Redmond porting Office to the iPad, although he went on in great detail about how Office 15 would work on Windows tablets.
Microsoft declined to comment on the CloudOn launch. ®