Philips intros dual-view telly tech
Seeing double
---
Philips went tellytastic today and revealed a vast range of TV sets, several of which include the dual-view display mode that essentially makes splitscreen gaming redundant.
The Philips 6000 and 7000 series are double sided Ambilight LED-lit tellies with Smart TV, built-in Wi-Fi and dual screen capabilities. Similar to the PlayStation TV, the passive Easy 3D system enables gamers to see each of their respective viewpoints, fullscreen, on the same display.
It's a polarisation trick requiring two distinct sets of specs that telly manufacturers have been exploring heavily, with LG also touting its dual-view tech recently.
These passive polarisation features appear on the refreshed Philips 6000 series, which also converts 2D to 3D and offers full 3D depth adjustment. The Smart TV functions can also now be accessed through Wi-Fi, with the days of mandatory ethernet cables fading fast.
The 6000 series display sizes start at 32in, with 37in, 42in, 47in and 55in models included in the range. Each includes four HDMI ports, three USBs and passive 3D specs.
Moving up a notch comes the Philips 7000 series which features 800MHz Picture Motion Enhancement, as well as Active Shutter 3D tech. The same specifications from the 6000 series are brought across, along with an additional HDMI port. These are available in 40in, 46in and 55in versions.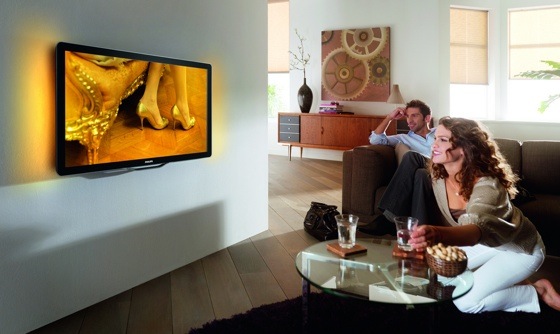 Taking sides is easy
The company has catered for the large portion of those that remain unconvinced by 3D, though, with the Philips 4000, 3500 and 3000 series. The Philips 4000 starts at 32in sizes, with 37in, 42in and 47in also on offer and is kitted out with four HDMI ports, three USB and Wi-Fi capability.
The Philips 3500 meanwhile ranges from 19in to 42in, with support for DLNA and YouTube. Wi-Fi is limited to an optional adapter, though.
Finally - for the ultimate strip down - comes the Philips 3000. These range from 19in to 42in yet lack any 3D or Smart TV functions, limiting users to three HDMI ports and a single USB.
All of the aforementioned models will hit shelves in Q2 2012 although exact prices and availability have not yet been specified. ®