This article is more than 1 year old
Spotify v. Pure Music
On-line tunesmiths sounded out
Review Spotify began as the cool on-line portal that set a high benchmark for music streaming services. It's now a fast growing, song spewing giant but it is not alone, as entertainment corps and smaller contenders want a piece of the action too.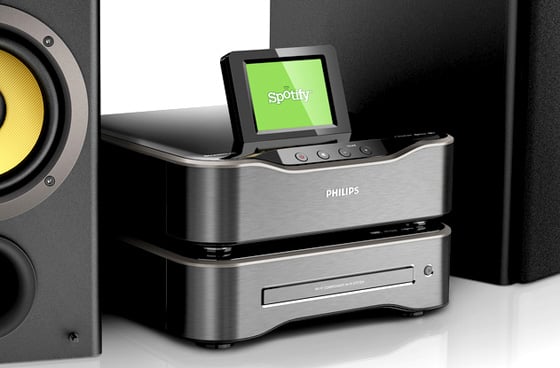 Philips Streamium with Spotify
Spotify competes with long-established internet music retailers using various business models. They include à la carte purchasing of iTunes, eMusic's monthly allocation of downloads, music discovery jukeboxes such as Last.fm and direct music streaming competitors. Apart from Napster and Deezer, which recently spread to the UK, the choice of streaming services is wider overseas. They include Mog, Rdio and Rhapsody, which recently bought Napster's European operations in an expansion drive.
Recent restrictions on Spotify's popular free offering obviously intended to push people to subscribe. However, it will have nudged some people elsewhere. The latest rival is from the UK's digital radio specialist Pure. The ambitious service, called Pure Music, is built on its pre-existing Lounge portal, which was its first move at creating a platform to complement its range of network-connected hardware, such as the Evoke Flow and Sensia radios. Though new, it draws from a large library and is a close Spotify alternative. So how to they compare?
Unlike most legit music services, Spotify has a free ad-supported option, with short adverts sprinkled between every few tracks. It enabled full access to millions of songs, with a limit of 20 hours of use a month. In April 2011 it changed this 'free lunch' into a light snack. Now songs can only be played up to five times and you can't go over ten hours a month of usage.
So if there's something you really like, you have to buy it or subscribe to Spotify Unlimited at £4.99 per month or Premium at £9.99. As the name suggests, Unlimited removes playback restrictions and ads. Premium enables access on other devices and higher quality sound. There are usually trial periods to sample the Premium lifestyle. Once you have, it's hard to go back.